CHELSEA GALLERIES
JAMES COHAN GALLERY / ALISON ELIZABETH TAYLOR, SURFACE TENSION 
Meticulous paintings that mix oil paint with wood inlay to create a heightened sense of reality and atmosphere. Taylor explains, "I found this tension was just what I needed to convey the otherworldly feeling I encountered in real life when I observed how nature adapts and mutates to accommodate encounters with the encroaching urban environment."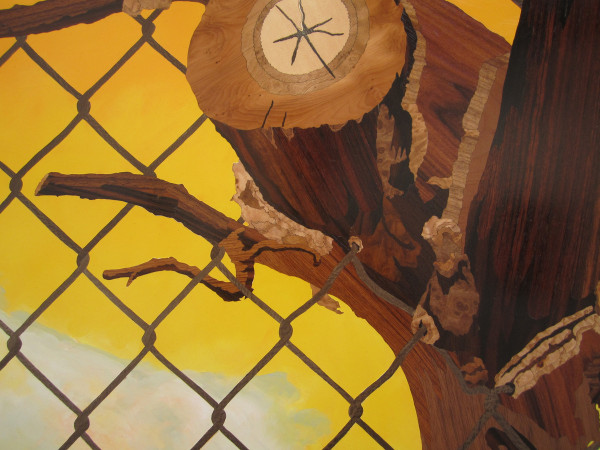 GAGOSIAN / RICHARD SERRA, NEW SCULPTURE
Loved this simple yet complex maze of steel plates by Serra. They were especially great when people were walking throughout, and you saw the tops of their heads or they unexpectedly popped out from behind one.
Also, on view at Gagosian's other space was a giant curvilinear piece. More expected from Serra, but still pretty amazing for the way it compressed and opened space from tight, winding disorienting paths to torqued, elliptical breathing areas.
 ANDREA ROSEN 2 / Llyn Foulkes
This show focused on a small selection of Foulkes' landscape paintings done from 1963-84 that worked with the compositional format of a postcard. I liked how his landscapes were abstract, rough, and anthropomorphic. I also missed his big retrospective, so it was a nice little dose.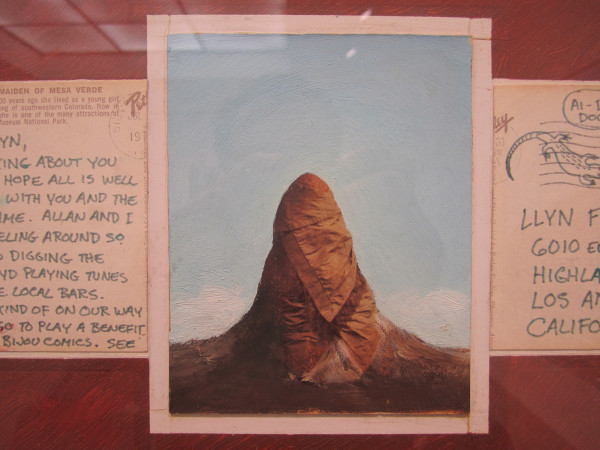 MATTHEW MARKS / THOMAS DEMAND, DAILIES 
Using his normal approach of creating scenes out of paper and then photographing them, these are based on Demand's cell phone photos of mundane moments. They differ from his recreations of images from the news media and felt less like there was something "behind" the image, a political context, topical event, etc. that needed to be understood.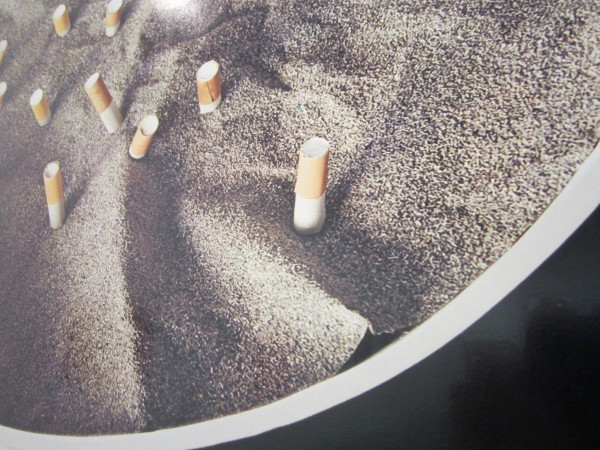 PAULA COOPER / SOPHIE CALLE, ABSENCE 
Sophie Calle deals with theft, loss, and memory. In Purloined, she displays a photograph of a work of art that replaced a stolen work of art next to a text of interviews she did with security guards, museum staff, and other people who had strong memories of the missing artwork. The text is poetic and often funny. Discussing a missing Picasso, "It's certainly not a picture that I'd have thought a thief would have responded to."
The main gallery space all revolved around the loss of Calle's mother. In the below image from Where and When? Lourdes, Calle tells an elaborate tale of consulting a clairvoyant to predict her future, so Calle can then act out the predictions. It is mysterious and involves ultimately needing to speak with the Virgin Mary. Calle's brand of storytelling in which she is the central character reminds me a little bit of someone like Miranda July. It is an engaging, often poetic attempt to turn pedestrian life into something magical or mysterious, but at times it becomes too quirky and narcissistic.

Sophie Calle, Where and When? Lourdes, 2005-2008
Photographs and text captured many touching moments about Calle's mother, such as a list of some of her mother's last experiences: a pedicure, the last book she read, a final new friend made, her last tears, listening to Mozart, her last word and smile. Calle also documents how she buried her mother's photograph at the North Pole because it was a place her mother always wanted to go but never made it. My only reservation about the piece was that much of it still cast Calle as the central figure/protagonist, so it seemed problematic to display a work about your mother that was still so much about you. Perhaps, giving the benefit of the doubt, the two are intertwined and their stories define one another?
On to Tribeca …
MUSEUM /  Alex Kalman, and Benny and Josh Safdie of Red Bucket Films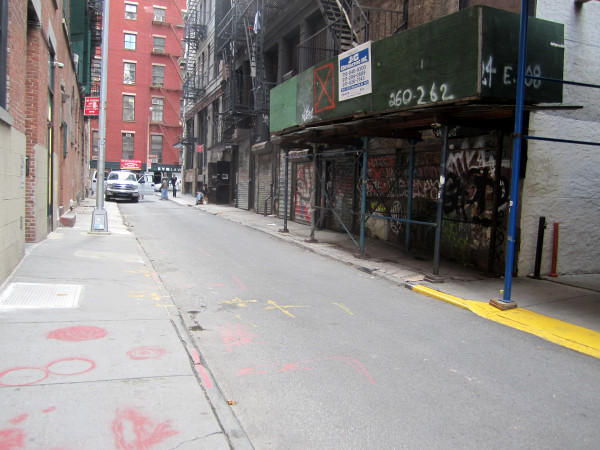 I had seen this project on the internet and wanted to visit. It looks like a nondescript alleyway in Tribeca, but unexpectedly an abandoned elevator shaft opens up to an eccentric museum. Odd collections are displayed on mounts in a professional yet still homespun way. Items included different types of fake vomit, a shoe thrown at George W. Bush, objects made by and for prisoners, tip jars throughout New York, potato chip bags from all over the world, and Chinese paper goods that signify worldly possessions to burn at funerals (to name a few). It was very clever and well done, so I encourage browsing their website to see more.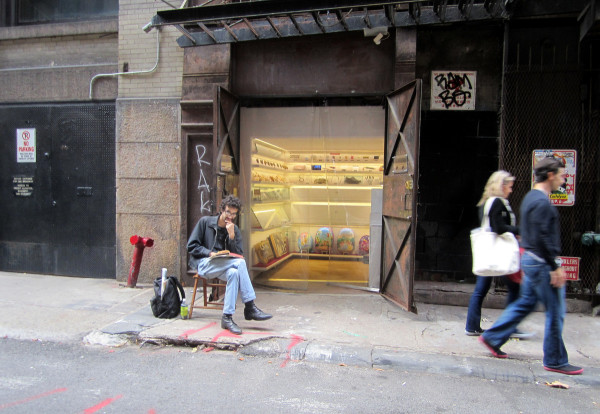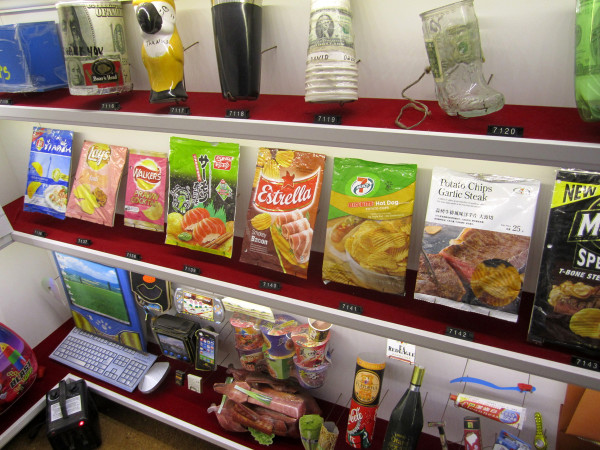 POSTMASTERS GALLERY / STEVE MUMFORD, THE SNOW LEOPARD
Steve Mumford was commissioned by Harper's Magazine to go to Guantanamo. He made two trips in February and May 2013. What he produced is an incredible suite of ink and wash drawings that are probably one of my favorite things I saw on my trip. They capture editorial details in a way that photojournalism often does not, such as the classified sections, edited content blotted out in black, and eerie details, like a restraining chair used for force feeding and plywood box cells used for interrogation, with placid beauty and incredible detail.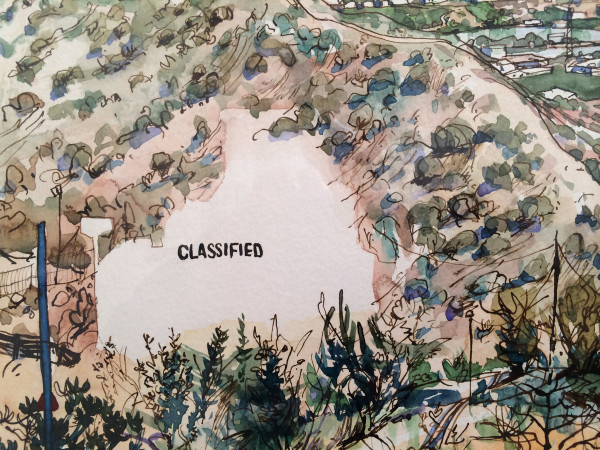 MUSEUM OF ARTS AND DESIGN / OUT OF HAND: MATERIALIZING THE POSTDIGITAL
This dense exhibition of artists, architects, and designers plunges you into the world of digital modeling, 3D printing, CNC cutting, laser cutting, and other techniques that remove the hand to make intricate clothing, furniture (tables, chairs), household items (silverware, lamps), modular architectural pavilions, and non-functional sculpture. At worst, the work looks repetitive and like someone's idea of the future that is already dated (like the image below with clunky geometric structures or the cellular/latticework pattern that is so prevalent).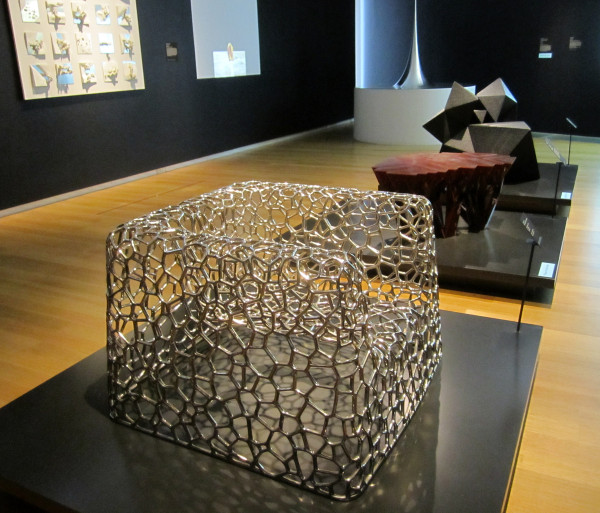 At best, its applications produce surprising results in unexpected realms like a ribbed chair with an elegantly stretched scrim, sweaters, and shoes that do not necessarily take on a contrived "futuristic" look but still take advantage of new techniques and materials.