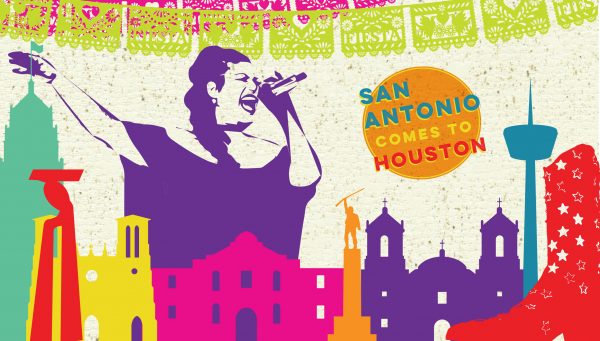 On January 18, 2019 Glasstire will present its second annual Glasstire Party in Houston at The Space HTX, a new event space on Commerce Street, tucked in an industrial warehouse in the city's East End. Featuring food, drinks, art, and musical performances, the night is not to be missed.
While Glasstire's 2018 party was in celebration of the art and artists who call Houston home, its 2019 event is all about San Antonio. Glasstire's art auction will feature some of the city's most recognized artists, including Chuck Ramirez, Chris Sauter, Michael Menchaca, Christie Blizard, Margarita Cabrera, Ana Fernandez, Joey Fauerso, and many others. Topping off the event — which is chaired by Marita and JB Fairbanks, Eleanor and Dan Gilbane, and Shannon Hall and Marcus Sloan — is a performance by San Antonio's own Ada Vox, a drag queen who was a top ten finalist on the 2018 season of American Idol.
Of course the party wouldn't be complete without food and dancing: DJ Men-Yo will provide the beats, Tim The Girl Catering will provide the supper, and libations come courtesy of Treaty Oak Distilling, Tito's Vodka, and Palmaz Vineyards.
Underwriting for the event, along with tickets for the party, can be purchased here. All proceeds from the Glasstire Party go towards supporting Glasstire's non-profit, independent arts journalism in Texas. 
See photos from out 2018 party here!
Artists participating in Glasstire's 2019 auction include:
Jesse Amado
Ricky Armendariz
Linda Arredondo
Christie Blizard
Margarita Cabrera
Jimmy James Canales
Margaret Craig
Jeffrey Dell
Joey Fauerso
Ana Fernandez
Sarah Fox
Megan Harrison
Susan Oliver Heard
Charlie Kitchen
Leigh Anne Lester
Ken Little
Michael Menchaca
Amada Miller
Kelly O'Connor
Cruz Ortiz
Justin Parr
Katie Pell
Louie Preciado
Chuck Ramirez
Daniel Rios Rodriguez
Anthony Rundblade
Chris Sauter
Gary Sweeney
Michael Velliquette
About Glasstire
Glasstire is the oldest online-only art magazine in the country. Since 2001, we have promoted visual art in Texas, becoming a model for sustainable arts journalism. Our name is an homage to the glass tire sculptures of Robert Rauschenberg, who hailed from the small coastal town of Port Arthur. In tribute to his remarkable achievement, our work recognizes that great art can come from anywhere.
We are a non-profit 501(c)(3) publication, and we're supported in part by grants from The Houston Endowment, The Brown Foundation, Inc., the National Endowment for the Arts, the Greater Houston Community Foundation, the City of Houston through Houston Arts Alliance, and the Texas Commission for the Arts.