Chip Lord, an American artist born in 1944, explores in his works the halcyon myth of 1950s America with a simultaneous nostalgia and detachment. Lord, along with Doug Michels, co-founded the seminal collective Ant Farm in San Francisco in 1968. An architecture, graphic arts, and design collaborative, the group's name arose, in Michels' words:
"We wanted to be an architecture group that was more like a rock band. We were telling Sharon [a friend] that we would be doing underground architecture, like underground newspapers and underground movies, and she said, 'Oh, you mean like an Ant Farm?' and that's all it took. It was very Ant Farm. The founding of the name was indicative of how Ant Farm worked: the right idea comes, everybody acknowledges it is the right idea and instantly adopts it."
Ant Farm sought to be an "art agency that promotes ideas that have no commercial potential, but which we think are important vehicles of cultural introspection." Over the next ten years, before a fire destroyed their studio, they created many internationally-recognized projects, installations and performances, including Amarillo's Cadillac Ranch (1974), which is a row of classic-era Cadillacs half-buried, nose-first, in the ground — a symbol of the inevitable direction of the ego of automotive vanity and leisure. They were also the architects behind Media Burn (1975), a sly, guerilla-style event where they sold unsponsored merchandise "to use capitalism to smash capitalism," and drove a Cadillac through a towering stack of TVs.
After Ant Farm, Lord continued to collaborate on an array of projects and became a professor of film at UC Santa Cruz (he retired in 2010). This Saturday, October 13, 2018, at 7PM, the Amarillo Museum of Art will present a talk on the history of Ant Farm and The Cadillac Ranch with Lord, and will present a screening of his new film, Greetings from Amarillo. The film, a portrait of a wind-swept Amarillo, is scored by Hayden Pedigo, a native of Amarillo, who uses open tuned acoustic guitars and ambient electronics.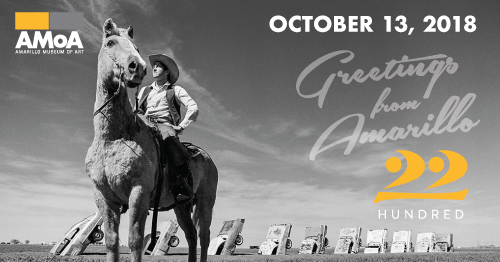 Admission is ten dollars, and free for members of the museum.