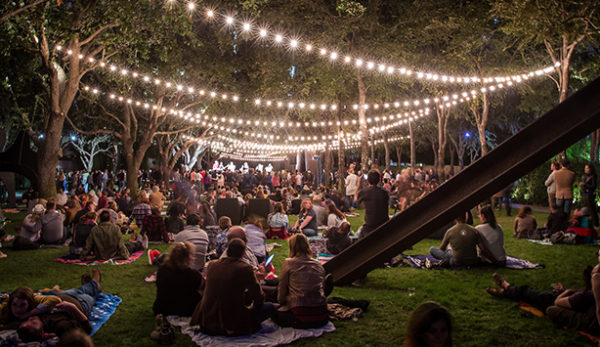 The Nasher Sculpture Center in Dallas has announced its 2017 season of 'til Midnight at the Nasher. It's free, it happens on every third Friday of the month from 6 pm to midnight, and it runs from now through October.
The evenings are made up of live music performances, outdoor screenings of movies in the Nasher garden, and free admission to the Nasher to see the exhibitions. Also: "Guests have the opportunity to engage in social media giveaways, progressive tours, and to view the permanent collection and special exhibitions."
Opening concerts happen from 6-7 pm, then the headliner plays from 7-9 pm. Screenings start at 9 pm. Tours and admission to the Nasher happen throughout.
Here's the lineup, via the Nasher:
Dallas Arts District Summer Block Party
Film: La La Land, 2016 (PG-13)
July 21
Film: Catch Me If You Can, 2002 (PG-13)
*Special headliner to be announced*