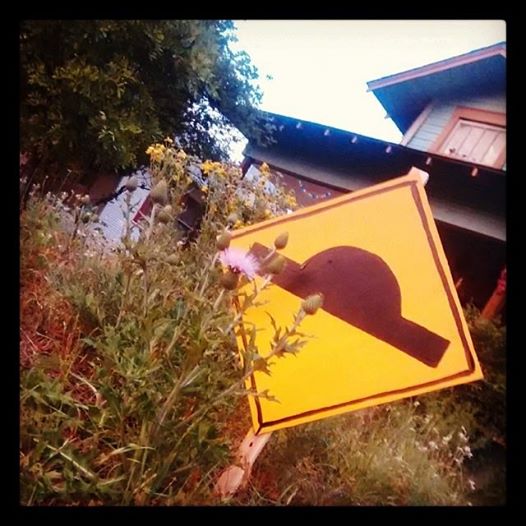 It isn't truly springtime in Dallas until the SpeedBump Art Tour takes over Oak Cliff (or, "the Cliff," as it is affectionately called)—and this year's festival is running today, May 20, from 12-6PM. Started in 2000, SpeedBump claims it is both the longest running and "most exciting" art tour in the Cliff, and they might not be wrong. This year's tour includes twenty stops; participants range from longtime favorites like Chuck & George, Deadbolt Studios, and Oil & Cotton, to Speedbump newcomers like Oak Cliff Pottery and Chris Bingham. See a full list below.
And when the tour is over make sure to stop by the afterparty at Mighty Fine Arts from 6-9PM. In conjunction with the gallery's current exhibition, The High Show, the event will feature poetry, art and music.
For more info on the SpeedBump Art Tour, please go here. To see a map of tour stops, go here.
Participating artists include:
Chuck & George
Brad Ford Smith
Ollie Gee
Aza Smith
Kim Owens
Lily Smith-Kirkley
Deadbolt Studios
Matt Clark
Paul Winker
Randy Guthmiller
Zeke Williams
Jason Dann
Jessie Moncrief
Gretchen Goetz
Scott Winterrowd
Gillian Bradshaw-Smith
Sour Grapes Studio
Carlos Donjuan
Miguel Donjuan
Ricardo Oviedo
Drywall Studios (Iris and Brennen Bechtol)
Angela Faz
Danielle Ellis
Sara Cardona
Chris Bingham
Oak Clif Pottery (James Olney)
516 Fabrication
The Mud Campaign ( H. Schenck & Esther Rose)
Gina Orlando
JM Rizzi
Rachel Hoehn
Loretta Gonzalez
Oil & Cotten
Mighty Fine Arts (presenting "The High Show")
Sunset Studios
Rachel Rushing
Emily Riggert
Pascale Pryor
Danielle Jones
Scott Trent
Robb Conover
Lara Lenhoff
Erica Felicella