ArtSlam is an auction benefiting WordSpace, a Dallas writers organization that hosts regular readings and events around town.
The auction will be Sunday, June 24th, at Steve Paul Productions, a media production studio on Main that has hosted gallery shows before, including one curated by the likes of Greg Metz and John Pomara.  (There will also be non-art packages up for auction from celebrity chef Blythe Beck, Landmark Theatres, Dallas Summer Musicals, and a bunch of other fun stuff.)
All kinds of artwork will be up for auction by names new and familiar. I will be after a Pinky Diablo skull spoon. I will be after edgy and hilarious work by the Brians (Jones and Scott, alias Chuck and George, who brought new meaning to Halloween in Oak Cliff). Speaking of Oak Cliff, ArtSlam will have a big helping of Mighty Fine Arts in the mix, so the potential of making off with great stuff on the cheap is pretty high.
I have been to one WordSpace event so far, a "salon" as they call it, in a very beautiful East Dallas home. This salon featured reading by local guy Ben Fountain, whose new novel was about to be published by Ecco Press. The following Sunday his book got good reviews in the New York Freaking Times Sunday Book Review. The WordSpace crew was friendly and welcoming, and I got to hang out with Karen Weiner, owner of The Reading Room, and Jacob Stapp Cigainero, freelance writer, PR consultant at SparkFarm, and world's best conversationalist. As I sit in my duplex writing this post, there is a Wordspace Poetry Slam happening in Deep Ellum.  Two of WordSpace's most active members are art critic and curator Charles Dee Mitchell and Mighty Fine Arts owner Steve Cruz. There is a lot of overlap between the visual art community and the written word community, so an art-based fundraiser is a natural fit.
And now a sampling of works on the auction block: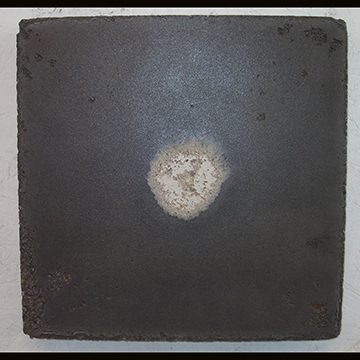 what were you by Jim Brightwell
ArtSlam will be held this Sunday, June 24th, from 5 – 9 p.m. at Steve Paul Productions in Dallas.
Images courtesy of Steve Paul Productions and the artists.
This blog is called Don't Look. Okay Look.
Betsy Lewis is a Dallas writer who went to the Brians's 2010 Halloween Party looking like this: