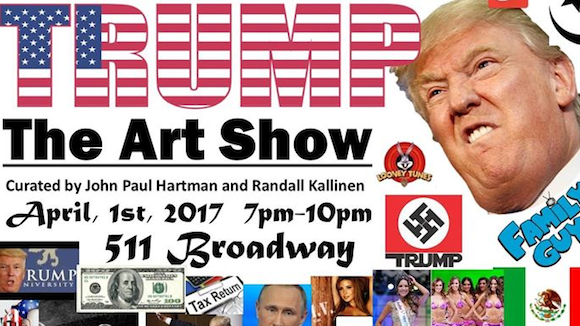 Saturday, April 29 will mark President Donald Trump's 100th day in office and he has already inspired two exhibitions in Houston. Although the press release for The First 100 Days: Artists Respond calls the show a "one-of-a-kind, Trump-defined exhibit," Kallinen Contemporary already presented Trump: The Art Show on April Fool's Day.
The First 100 Days: Artists Respond is curated by Matt Adams, president of the Visual Arts Alliance. "Artists throughout history have responded to the political environment," said Adams. "This art show will take its place in political history as the 'art demonstration to remember.' It had to happen—so we made it happen in Houston."
The juried show will take place on Saturday, April 29 from 6-9pm at the Silos at Sawyer Yards in the Washington Arts District. Participating artists are:
Josh Alan, Agnes Bourley, Daniel Brents, Martha Carson, John Clements, Felipe Contreras, Marti Corn, Angela Corson, Andy Dearwater, Kathy Drago, Reinaldo Egusquiza, Barbara Elmore, Rebecca Finley, William Gerrish, Tom Gingras, Sarah Gish, Marsha Glickman, Joyce Gold, Stephanie Gonzalez, Lisa Goodrich, Nancy Grob, Valeria Gudell, Erik Hagen, Jim Howard, Valentina Kisseleva, Tamara Lee, Reese Lynch, Silvia Majocchi, Sara Mckee, Deborah Morris, Patrick Palmer, Donna Perkins, Janet Roe, Anat Ronen, Esmeralda Sanchez, Marlo Saucedo, Tatyanna Scott, Marjorie Silverstein, John Slaby, Becky Soria, Lyn Sullivan, and Gary Watson.