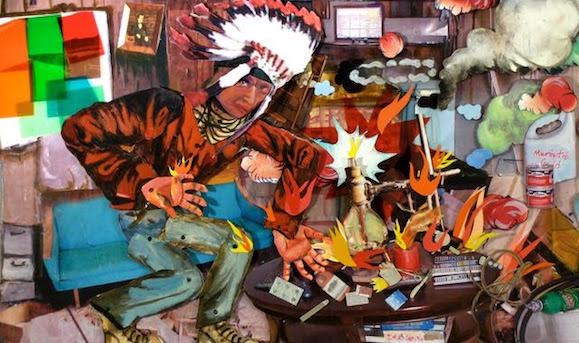 Spectacle Society, a Dallas-based micro-cinema collective, will present a screening of animations by Martha Colburn at Centraltrak (Dallas) on Tuesday, April 18th at 7p.m. Colburn is an acclaimed New York/Amsterdam-based artist whose work has been shown at, among other venues, the Centre Pompidou in Paris, the Museum of the Moving Image in Queens, SITE Santa Fe, and the Whitney Biennial.
Colburn's works "deploy the language and materials of filmmaking to comment on popular culture, history, politics and sexuality.  Her primary focus has been on contemporary topics through a montage of techniques combining live action, animation and found footage." The work is collage-like, using layers of works on paper, text, and painting along with live music performance. Colburn will be at Centraltrak on the 18th to present the program.
Spectacle Society is a relatively new collective of of "artists, writers, and curators who collaborate to bring innovative or historically important experimental film and video art works to the Dallas area." The group consists of Carolyn Sortor, Richard Bailey, Shilyh Warren, Peter Bo Rapmund, Colette Copeland, and Michael Morris. The Colburn screening is the group's seventh public event.
Again, the screening takes place Tuesday evening, April 18 from 7-10 pm at Centraltrak in Dallas. For more info, go here.