Over the course of a career that spans more than thirty years, San Antonio-based artist Constance Lowe has created art in a variety of mediums, including sculpture, installation, painting, drawing, and collage. An artist who usually works in series that can span a number of years at a time, Lowe's main interest is in the deception of appearances considered from a conceptual vantage point. No matter the medium, Lowe's work is characteristically full of contradictions.
Born and raised in St. Louis, Lowe received a BFA in painting and graphic design from Southern Methodist University in Dallas in 1973, and an MFA in painting from Western Michigan University in Kalamazoo in 1979. Following a brief teaching stint in Minneapolis in the late 1980s, Lowe moved to San Antonio to join the UTSA faculty, from which she's recently retired. Among her former students are acclaimed artists Dario Robleto, Chris Sauter, and Ann Wood.
In the early 1990s, Lowe began work on a sculpture series titled Appetite for System. The overriding idea for the project was to create an aesthetically poetic sense of formal order by grouping together associative objects made from a range of unlikely materials, and using a variety of modes of presentation. Among the materials that interested Lowe at the time were wool army blankets, and in one example, the blanket functions as both a painting, an assemblage, and a sculpture all at once. While it acts like a canvas or panel because it's embellished with painted-on patterns and attached metal cones, it's more sculptural at one side, where it hangs like drapery folds that recall Robert Morris' felt sculptures of the late 1960s. Contrasting with the softness and fluidity of the blanket is the hard geometry of a fabricated wooden box with an opening that suggests it could be a speaker (it isn't) mounted below. More ambiguities and complexities arise as we the viewer consider potential meanings in the painted-on flesh-toned ovoids and suspended cones.
Carrier, another sculpture from the series, is a non-utilitarian object made to look like it has a function. Formally steeped in minimalist traditions, it consists of two boxes mounted on a metal stand. The boxes have the familiar speakers that aren't really speakers, and handles on all sides that don't open any drawers.
One of the most complex and intriguing works from the Appetite for System series, Heterotaxia #2, uses an obscure scientific term in its title that refers to the abnormal or irregular arrangement of things. A grouping of display devices includes frames, a shelf, and a glass jar, and the assemblage also includes fabric, wood, and such oddities as a rolled-up shooting mat (to lie on when shooting a rifle) and molding bread, which changes over time. Organic forms, such as floral motifs and a painted-over wood grain pattern, contrast starkly with the rectangular geometry of steel frames.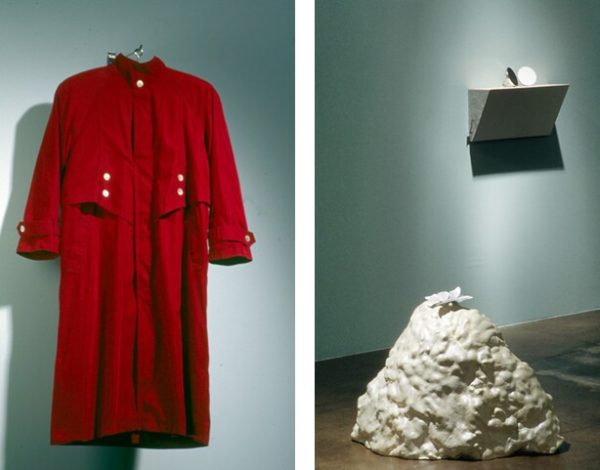 In her 1998 installation, Striking Likeness, which Lowe created during an artist residency at Artpace in San Antonio, the artist put together a large environment of paintings and sculptures in a variety of mediums, using the gallery walls, ceiling, and floor. When viewed in totality, the installation appears to be composed of unrelated components. But with closer inspection, it becomes clear that each section or object is imbued with some kind of internal contradiction: On the floor, butterflies are shown with open wings, as if about to fly, yet they're bound to the ground with their legs trapped in a toxic pool of liquid the color of anti-freeze. They appear light and delicate, but they're made of heavy bronze. To contrast with images derived from the natural world, Lowe also included a number of objects that are clearly fabricated, such as a purchased woman's coat with applied mother-of-pearl buttons, and shelves with pairs of vanity mirrors, and these objects are also not what they appear to be at first. The woman's coat has salt sewn into its hem, which weights it down while metaphorically connecting it to nature, and the mirrors are covered with soot and white powder, which negates their function while giving them individual traits and the potential for loaded symbolism.
While making the work for her Artpace installation, Lowe became interested in the symmetrical markings on the butterfly wings, the patterns of the randomly poured latex paint, and the mirror imaging that she explored with pairs of mirrors. For much of the decade that followed, she investigated the subtle asymmetries that exist within most bilateral structures and began using ink blots as points of departure for felt constructions, paintings, and drawings. Rather than base a work on the standard Rorschach patterns used in psychological testing, Lowe made her own ink blots and often combined sections of them to develop new compositions. Seeking an ambiguous middle ground between abstraction and representation, she relied upon color, texture, and subtle distinctions between the two sides of an image to subvert easy cognition of the images as things from the known world, such as maps, biological specimens, or medical images. In responding to hand-sewn felt works like Softissue 2, our impulse to interpret the imagery as representational is undermined by the interplay of contrasting colors and actual shadows. In paintings and drawings such as Orange Alert Afterglow and Chromarray 5-4, the overall symmetry is interrupted by irregularities in the contours, as well as by the variety and intensity of a psychedelic palette, which Lowe made all the more luminous in the images on drafting film by drawing on both sides of the film.
Lowe's current body of work, Garden City (Air to Ground), continues her examination of the complexities that underlie seemingly simple forms. As a counterpoint to the excessive baroque style of the previous series, Lowe has returned to a more minimal vocabulary, a move that was prompted in 2012 when she exhibited a revised version of her earlier sculpture Carrier in a solo show at Blue Star Contemporary. Based on circular and grid irrigation farming patterns found in NASA satellite photos of midwestern landscapes where her family once owned property, collages such as Garden City #1 (Flyover) and Echolocation (Mixed Signals) combine details of clouds from photos taken by the artist with geometric shapes cut from commercial materials that originated in the natural world, that have been altered through manufacturing. While Lowe expects that a viewer's perceptual dissonance occurs due to the competitive interaction of the illusionary clouds and the flat geometry, she also hopes that we will consider the back stories that underlie what we are seeing. There's more to the clouds that the snippets we're seeing, so what lies beyond? The dyed leather used as material has a history, so how does a lamb get turned into suede?
Lowe's newest collages effectively activate both sides of our brains by triggering sensory responses to materials and forms while simultaneously encouraging intellectual reflection about the forms' history, context, and meaning.
Works from the Garden City (Air to Ground) series can be seen currently in the exhibition "On the Curve," on view at Ruiz-Healy Art through February 25.