Conduit Gallery in Dallas announced today that it would hold a special one-day viewing of Annabel Daou's massive drawing, America, this Friday, which is of course Trump's Inauguration Day.
"We are taking the long view," writes Conduit. The drawing, measuring 13-feet long, was made by the New York-based Daou in 2006 and shown at Creative Time's show Democracy in America at New York's Park Avenue Armory in 2008. The drawing is characteristic of Daou's meticulous, delicate style and is made up of undulating layers and patterns of text, all of it pulled from historical and contemporary American writers as well as the words of social, political and pop-culture American figures or those dealing with the notion of America, ranging from William Faulkner to Aldous Huxley, the Ramones, Hannah Arendt, Thomas Jefferson,  Bob Dylan, Robert Smithson, George Bush, and many others.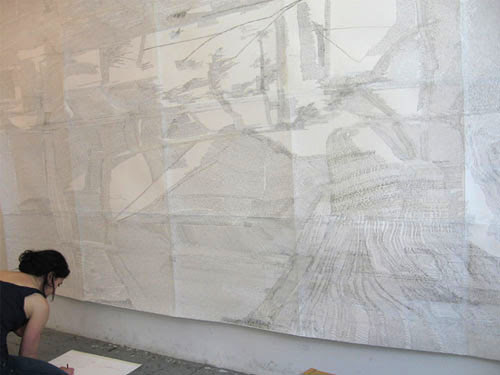 Via Conduit, Daou writes, "I wanted the proliferation of abutting passages to convey something of the tumult and energy of the birth and life of the country. My aim was to have language function in as many ways as possible—as signification, texture, and even as 'sound'—within the boundaries of the 7′ x 13' piece of paper."
This special presentation takes place this Friday, Jan. 20, from 10 a.m. to 6 p.m. at Conduit Gallery, Dallas.