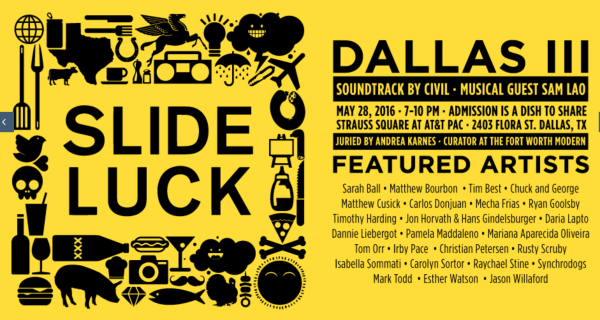 For the second year in a row, Dallas artist Misty Keasler has organized the franchised event Slideluck—an outdoor group show/slideshow of artists' work (plus potluck dinner)—and as with last year, the regional lineup is solid. This year the juror of the show is Andrea Karnes, curator at the Modern Art Museum of Fort Worth.
Again the event will be held in Strauss Square at the AT&T Performing Arts Center. It promises to be a relaxed and happy evening for artists and audience with food and booze and art viewing for all. Via Slideluck's release:
…Brooklyn Brewery, will provide complimentary ice cold beer to all guests 21 and over. Admission is food to share. The first 200 guests to arrive will receive a gift bag with this year's Slideluck T-shirt, featuring artwork from a featured artist… . Since 2000, Slideluck has been bringing events that combine a multimedia slideshow with a potluck dinner to over 85 cities and communities all over the world.
Here's the list of featured artists for the Dallas showcase:
Sarah Ball (Penzance, Cornwall, UK)
Matthew Bourbon (Denton, TX)
Tim Best (Dallas, TX)
Matthew Cusick (Dallas, TX)
Carlos Donjuan (Dallas, TX)
Mecha Frias (Buenos Aires, Argentina)
Hans Gindelsburger (Milwaukee, WI)
Ryan Goolsby (Dallas, TX)
Tim Harding (Fort Worth, TX)
Brian Jones / Chuck and George (Dallas, TX)
Daria Lapto (Ulyanovsk, Russia)
Dannie Liebergot (Fort Worth, TX)
Pamela Maddaleno (Paris, France)
Mariana Aparecida Oliveira (Sao Paulo, Brazil)
Tom Orr (Dallas, TX)
Irby Pace (Fort Worth, TX)
Christian Petersen (Stockholm, Sweden)
Rusty Scruby (Dallas, TX)
Isabella Sommati
Carolyn Sortor (Dallas, TX)
Raychael Stine (Albuquerque, NM)
Synchrodogs (Lutsk, Ukraine)
Mark Todd (Los Angeles, CA)
Esther Watson (Los Angeles, CA)
Jason Willaford (Dallas, TX)
Though Slideluck was originally founded to showcase the work of art photographers, the cities that pick up Slideluck are free to widen its scope. (Which Keasler, an accomplished photographer, has done.) This is actually the third time Slideluck has happened in Dallas, but the second time in its Keasler-led iteration. The event takes place on Saturday, May 28, from 7-10 p.m., again at Strauss Square at the AT&T Performing Arts Center, 2403 Flora St. Dallas, TX 75201. Admission is free, but DON'T FORGET TO BRING SOME FOOD.