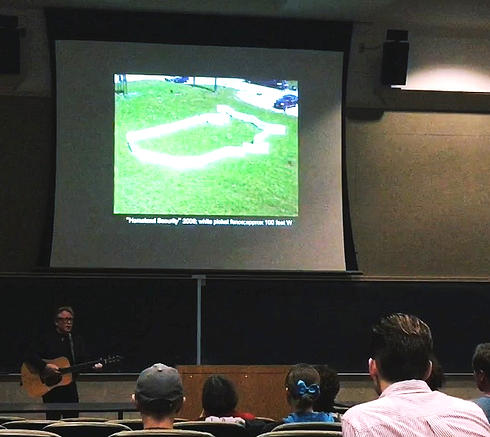 Slightly dehydrated, yet excited about hearing Ken Little's talk for the Sunday morning session of the 2015 Texas Sculpture symposium, I arrived to copious amounts of coffee and cheesy croissant sandwiches provided by Joe Arredondo and Texas Tech University. It was nice to see Sara Waters talking with Ken as I came in, and it gave me an opportunity to speak with him about an upcoming project. I have always respected Ken's amiable mood since he took the time to tour my studio when I was a grad student.
Despite there being around 145 symposium-goers, it felt like a small crowd. When these symposiums kicked back up about a decade ago, they were held in Junction, TX at the Tech campus. I remember walking in 5 minutes late to an artist's talk in Junction, sitting in the back, loosening my belt from lunch, and seeing the guy next the me without his shoes on – it was James Surls – though I didn't know it at the time. In Junction everyone attended everything until the bitter end, and even though this symposium was a complete success, having meetings and events all over town, and at different buildings across campus, dented the attendance numbers dramatically.
Ken started off strong with a song of his making, strumming a tune and, with slight coaxing, he had everyone in the room singing the chorus of, "Sex, and Drugs, and Rock-n-Roll!" Most symposium talks don't start with the crowd singing along with the presenter. Ken talked a great deal about students he has had the opportunity to teach over the years. I saw some professors smile and nod, while others visibly cringed when he quoted Henry Moore – "It is a mistake for a sculptor or a painter to speak or write very often about his job. It releases tension needed for his work." — This was another interesting behavior for a presenter to lead his talk with, which only added to Little's charm. I was hoping Ken would talk a bit about the title of the symposium, which I had missed in all the other talks over the weekend – The State of Sculpture In Texas. I left the symposium realizing that it was just a fancy catchphrase that looked nice on badges, and swag bags, but lacked the clarification of any qualitative remarks. However, if Ken's work is any indication of that State, then we are in good standing. I had seen the piece "Homeland Security" before, but it was nice to hear Ken talk about boundaries creating both citizens and aliens. In discussing the context of this American Dream/American Nightmare he mentioned, "Our perception of our border's vulnerability and security depends on which side you happen to find yourself on." This comment was a segue into speaking about the students' perceptions of their own work, and the need to release preconceived concepts of the work when you place it in the public eye. The lens of the ubiquitous viewer focuses on most work with at least a slight aberration unintended by the creator, and ultimately this difference of interpretation typically allows work to be stronger.
As Ken talked more about students and less about his own work, I was again reminded of Junction. I remember giving my own talk as a 1st year grad to a room full of Texas artists, feeling nervous and anxious, but being received well and encouraged. I know that meeting at Junction was a unique pleasure that might have only been fleeting, but surely regardless of where the Texas Sculpture Symposium meets, we can focus on joining new minds into the fray. Maybe because the logistics were complicated, and planning time didn't allow for students to speak – but I can't help but wonder if sharing the mic with students would give us a more current, dynamic notion of the State of Sculpture in Texas.
Overall, I thought the experience was fantastic – but, I'm biased as a sculptor in Texas who enjoys meeting new people and seeing old friends, especially when the beer is free. I think that in the future some ideas of the past concerning who will be speaking would benefit everyone – mostly emerging and student sculptors. That platform is rarely extended to participants, and even though for some it might feel more like a plank, we have a friendly crew 'round these parts.
This article is reposted with the kind permission of  The Bowerbird, Hannah Dean and Michael Glenn's blog of art Review in Lubbock, TX.  Image Courtesy of Alberto Careaga.

Read part I of Jon Whitfill's Texas Sculpture Symposium report here.