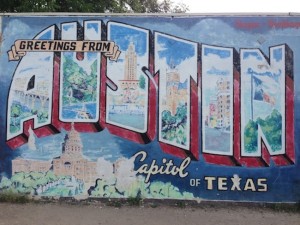 The folks at the (questionable) social networking site MyLife have put out a list of the top US cities in which to be an artist and Austin came in at fourth!
After starting with a list of the 50 most populous cities, they ranked the cities in five categories: cost of living, the number of people age 20-34 (something to do with more fellow emerging artists), the number of people working in the arts, the number of museums and galleries, and the number of households with incomes greater than $200,000 (which obviously has to do with the possibility of local art collectors).
Austin not only has the hipster factor, but got a big bump because of its average age. Dallas ranked at 20th; Houston 29th; San Antonio 32nd; Fort Worth 45th; and El Paso sits at the bottom of the pile at 50th. The full report can be viewed here.