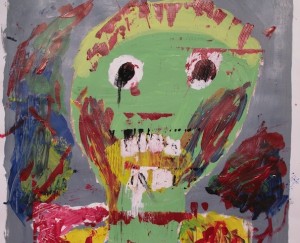 With demand dropping for dull piety in art, contemporary artists have left the Nativity, the Annunciation, etc. to popular illustrators, and have rallied around Halloween as the new iconographic nexus. It's got a lot to offer: superficially non-denominational (who isn't afraid of death?), the holiday has opportunities for both serious and comic themes, and  a profound cross-cultural dimension,  linking authentic traditions from Christian and pre-Christian Europe, pre- and post-conquest Mexico with generations of synthetic commercial schlock, all with costumes! There's something for everyone.
To better appreciate the magnitude of this cultural trend, I've compiled a list of just some of the many upcoming Texas arts-related events celebrating the Halloween/All Souls Night/Day of the Dead phenomenon; send me yours, and I'll update!
SAN ANTONIO:
Oct. 27, 12-4 pm: H-E-B Presents Spooky Saturday!  Family Day at Blue Star Contemporary Art Center. Participants will have a chance to create unique pieces of art with local artists and see performances from local music and dance groups. In theme with Halloween, we encourage creative costumes for kids of all ages!
Nov. 1-3: SAY Sí's 6th Annual Muertitos Fest will celebrate Día de los Muertos, featuring local artists, folk art exhibits, altars to honor the deceased, family art workshops, food booths, artisans' stalls, and live music and dance performances.
Nov. 4, 1-4 pm: The McNay Museum's Día de los Muertos includes  a viewing of Estampas de la Raza: Contemporary Prints from the Romo Collection, a screen printing workshop, an Altar de Muertos, and family tours at 1:30, 2:30, or 3:30 pm.
ABILENE:
Nov. 2, 6:30-10:30: The Center for Contemporary Arts host sa Dia De Los Muertos party celebrating the life and work of Clint Hamilton.
AUSTIN:
Oct 27, 2-4pm: Mexic-Arte Museum hosts a Calavera Skull Painting workshop with visiting Mexcian artist Efrén Gónzalez
Nov 2, 7-10pm: ChingoZine Release Party; the second, Day of the Dead-themed issue features original drawings, design,and print work of emerging Latino artists. 3808 Sycamore Dr. Austin, Texas 78722
CORPUS CHRISTI:
Nov. 5, 5 pm-Midnight: The fifth annual Dia de los Muertos Street Festival is downtown Corpus's permier block party, with a parade, mariachis, a hecho-a-mano craft festival. K Space Contemporary is holding workshops on papier mache, sugar skulls, and papel picado, and an Extravagancia de Pinatas exhibition.
ELGIN:
Oct. 27, 7 pm: Spiderwood Studios and Austin Actors Conservatory are organizing Trick or Treat, Hollywood Style, celebrating 100 years of Hollywood and horror films with fellow Texas film industry fiends, benefiting TXMPA.
ORANGE:
Oct. 16- Nov. 10 Orange, TX: Shangri La Botanical Garden and Nature Center's annual Scarecrow Festival features creations designed by local businesses, schools, families and groups: dozens of scarecrows line the garden walkways, and designs include everything from traditional scarecrows to entire scenes featuring groups of characters.
HOUSTON:
Oct 22 – Nov 10: Lawndale Art Center's annual Dia de los Muertos is one of the oldest and grandest Halloween celebrations, with a massive retablo sale, sugar skull workshop, family day fiesta and more!
Oct 26, 9-midnight: Houston artists gather for a seance to raise the great Joesph Beuys! Featuring new installation works by The Joanna, Mark Ponder, and more of Houston's finest. 1612 Winbern, Houston TX 77004
Oct 26, 6-8 pm: Peveto gallery is hosting Zombies From Memorial Park, a one-night only exhibition and silent auction, of scary zombie-themed art works, created by the students of St. Theresa's Elementary School. October 26, 6-8 pm
Oct 27-28: MECA's dia De Los Muertos festival features an art exhibit & competition of ofrendas (altars) created by community members, a calavera fashion show, live entertainment, and booths vending Latin American foods, arts and crafts in MECA's historic Dow School Campus, a 100 year-old building rumored to have spirit residents of its own.
Oct 27- ongoing: Carlos Hernandez's latest "Day of the Dead Rock Stars" paintings are on display at Record Ranch Gallery located inside Cactus Music.  The Houston artist has made a career out of memorializing deceased recording artists.
Oct 31, 7-10 pm: Deborah Colton gallery is hosting a Plastic Fantastic Halloween Party.
Nov 2, 6-9pm: Día de los Muertos in the East End: East End Studio Gallery's Art & Altar Exhibition opening with vendors and music by DJ Twinkle Toes
Nov 3, 6-9 pm: Indigenous music of Mexico will be performed live by Huehuetl at East End Studio Gallery with other live performances taking place next door at Bohemeo's. Suggested $10 Donation.
Nov 8, 7-8:30: A presentation about the "First Contact Between Native Americans, Europeans and Africans on the Gulf Coast" by Mark Lacy at East End Studio Gallery.
ARLINGTON:
Oct 31, 7pm: The Arlington Museum of Art is screening The Rocky Horror Picture Show at it's costume party on and encourages dancing.
BEEVILLE:
Nov 1, 3:30-5:30: The Beeville Art Museum's DDLM Celebration for ages 7-14. Refreshments served from 3:30-4:00pm, art projects from 4:15-5:30pm.
MARFA:
Oct. 28, 12 – 3 pm: The Chinati Foundation Dia De los Muertos event will include traditional Mexican food, music, and folk art activities.  Guests are encouraged to participate by bringing photos and memorabilia of deceased loved ones to add to a community altar at the Arena. A special hands-on workshop led by Bertha Zubiate of Presidio  at 1:00 PM tells the history and symbolism of the holiday and teaches traditional  crafts including papel picado, sugar skulls, and tissue paper flowers. Bertha Zubiate and Jose Grajeda, along with representatives of Chinati and Blackwell School Alliance, will discuss the event and history of the holiday with Rosario Halpern on Marfa Public Radio on Thursday, October 25. The interview will play in English at 10:30 AM during Talk at Ten and in Spanish at 3:00 PM during Música En Español.
MCALLEN:
Nov 1, 6:30-8:30: Art House Gallery and Hinovations Art Studio celebrate DDLM by setting up an Altar as part of the November exhibit "La Calaca, la Flaca, la Pelona". The public is invited to preview the exhibit and to assist with the set-up of the altar.
Nov 1-4: The International Museum of Art & Science's 3rd  DDLM starts Thursday at 5pm with a series of talks the historical background and origins of this holiday with Fran Alger from the McAllen Heritage Center, Dr. Servando Hinojosa, and Dr. Roberto de Souza, both professors from the UT-Pan American. On Sunday, Nov. 4, from 1:00pm to 5:00pm, IMAs features artist Mario Godinez,  performances by Grupo Folklorico Jaguar and the UTPA Ballet Folklorico, community altars  to popular Mexican Revolutionaries, calavera face-painting, and more.