Glasstire's contributors suss out the season's most promising shows.
AUSTIN
Evidence of Houdini's Return
Arthouse/AMOA
January 4 – March 4, 2012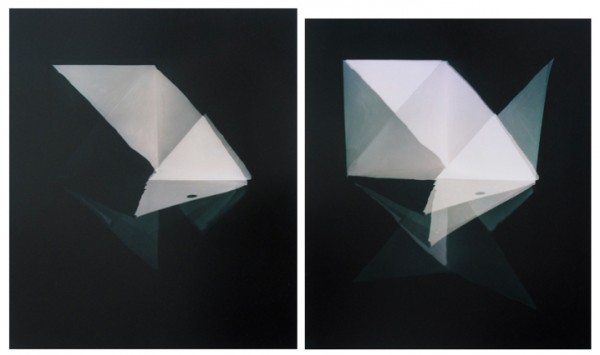 Arthouse and AMOA are officially conjoined twins and, as such, will be mounting an abstraction exhibition, Evidence of Houdini's Return. While the title is slightly obscure (it's also the title of a painting by Vernon Fisher at the Blanton—is this related? I have no idea), the concept of exploring notions of abstraction in a variety of media and as it relates to our day-to-day life is pretty exciting. So too is the international roster of artists that includes Katja Mater and Facundo Argañaraz. I'm especially looking forward to seeing J. Parker Valentine's roughed up gestural drawing sculptures and Sterling Allen's minimal interpretation of the objects in our everyday world. — Katie Geha

Diana Al-Hadid
The Visual Art Center
January 27 – March 10, 2012
Since it opened last year, The Visual Art Center on the University of Texas campus has proven to be the most experimental and smartly conceived exhibition space in Austin. Time and time again, they've blown up the arcade space with incredible sculpture and installation projects by visiting artists. Known for her architectural constructions that look like ancient ruins from the future, Syrian born sculptor Diana Al-Hadid will be mining the history of Gothic, Northern Renaissance and Mannerist paintings in the creation of this site-specific work. — KG
So Percussion: A John Cage Celebration
McCullough Theater – UT Austin
March 6 – March 7, 2012, 8:00 p.m.
I got heavy into John Cage this year. Two things about his work changed the way I heard the world: his experimentation with sound and nature and pots and pans and whatever else to make some kind of rag-tag symphony of the noise that surrounds us (see this excellent video) combined with his revelatory way of thinking about how to experience life (see this quote: "Our intention is to affirm this life, not to bring order out of chaos, nor to suggest improvements in creation, but simply to wake up to the very life we're living, which is so excellent once one gets one's mind and desires out of its way and lets it act of its own accord"). New York's So Percussion will be reminding us of Cage and the life we're living when they present a two-day festival of Cage's work. The festival will celebrate Cage's 100th birthday and features composer Cenk Ergun and viola player Beth Meyers as well as underground electronic performer Dan Deacon. — KG
Teenage Wasteland
Co-Lab
Opening reception May 5th, 2012; closing reception May 12th, 2012
Artist Lee Webster, musician Julia Hungerford, and Domy books director Russell Etchen are organizing an expansive show that features work by artists made during those formative teenage years. The exhibition will feature all media (including poetry!) and promises to be a nostalgic investigation of those angst-filled years. Look for sensitive drawings of Kurt Cobain and home movies of suburban boys performing for the camera and each other. All works will be exhibited anonymously and those works not claimed at the closing "will be sacrificially BURNT in a bonfire of teenage hopes & dreams." — KG
BEAUMONT
Home Sweet Home: Works by Jasmyne Graybill
Dishman Art Museum at Lamar University
January 17 – February 23, 2012
Opening reception: Friday, Jan. 20 at 7 p.m.
Jasmyne Graybill creates fake, yet remarkably lifelike, decay. She makes mold, lichen, dry rot and other putrescence out of common, not-gross sculptural materials. San Antonio art fans will remember her installations from a few years ago when she was getting her MFA there, like a fake moldy floodline in a gallery or fake yucky growths crawling up the walls at Cactus Bra. Since then she's shown smaller objects (muffin tins oozing colorful mold; toenail clippers sprouting fuzzy life), at Lawndale Art Center and most recently at Women and Their Work. She matches pleasingly succinct titles ("Rot", "Gestation", "Fungal Infection") with distinctly beautiful sculptural forms, as if to ask: why is it, really, that we should hate mold spores? Denizens of the east Texas art scene should be sure to catch this opportunity to see Graybill's, er, "growing" body of work. – Rainey Knudson
CANYON
Another Day, Another Dollar: The Legacy of the Civilian Conservation Corps in Palo Duro Canyon
Panhandle-Plains Historical Museum
February 12 — October 13, 2012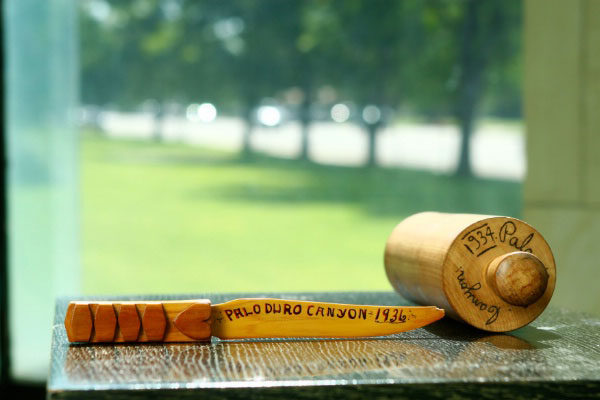 Here's one for an election year: the Civilian Conservation Corps (CCC) was FDR's pet New Deal program, central to his belief that something extraordinary had to be done in the depths of the Great Depression to solve the country's 25% unemployment rate. By many accounts, it was wildly successful: we can thank this federal program for many of the trails, rest stops and historical hotels we enjoy at our national and state parks, to name just a small part of the CCC's work. In the Texas Panhandle, the CCC's greatest accomplishment was Palo Duro Canyon State Park, still a highlight for any visitor to the region. This exhibition will include photographs of existing CCC public works, as well as Palo Duro furniture and folk objects that were made by workers in the program. — RK
CORPUS CHRISTI
Russian Winter Challenge: A Tribute to Sergei Eisenstein
Revolution Bar,  2306 Airline Rd.
January 18, 2012, 7 – 11:30 p.m.
South Texas Underground Film (STUF) is a broad-based coalition of indie and experimental filmmakers whose HQ is loosely based in Corpus Christi. Wait, there are underground filmmakers in Corpus? Yes, and one short film: "Going to Grandma's" by co-founder Mariella Sonam Perez, garnered a finalist nod in this year's Texas Monthly "Where I'm From" video competition at the Austin Film Festival. STUF puts on regular and bracingly rigorous festivals and events, including short film slams, an LGBT festival and this wonder of a challenge, wherein interested participants submit short films inspired by Eisenstein. Entries will be taken until January 4, and the only strictures were that participants follow the Eisenstein editing techniques, which include Metric Montage, Tonal Montage, Rhythmic Montage, Over-Tonal Montage and Intellectual Montage (see an explanation here). This ought to be one hell of a fascinating screening, whether or not you're an early-Soviet cinema nerd. — Sarah Fisch
Michael Scott: Buffalo Bulb's Wild West Show
Art Museum of South Texas
March 9 – June 3, 2012
Check out Michael Scott's thematic alloy of the 17th century, Dutch mania for tulips with the late-19th and early-20th century mania for Wild West shows. In large, colorful, just-this-side-of-cheesy canvases, Scott manages to make some fascinating comparative leaps, and conjures up a freaky, playful what-if scenario. After all, the notions of colonial expansion, exoticism and the desire for tokens of national identity repeats itself a hell of a lot in art and world history, and the treasures of adventure and prestige are full of unintended consequences and mythmaking.
What saves the images is Scott's wholehearted commitment to technique; he skates along the edge of cartoon, but comes across as seriously fascinated with this cowboys vs. aliens thought experiment. — SF
DALLAS-FORT WORTH
Town and Country
brand 10
January 13 – February 25, 2012
One benefit of this recession has been the abatement of the McMansion surge that, in the years prior to the crash, pixillated the horizon with cheaply built, homogenized homes. Cities now give way to suburbs that sprawl out into further ex-burbs, all looking fairly similar wherever in the country you happen to be, so as not to confuse anyone into thinking that they are actually somewhere specific. That shifted sense of place, and the increasingly blurred lines between cities and their environs, is the theme the folks at brand 10 in Fort Worth will take on in the gallery's upcoming exhibition, Town and Country. The show brings together a diverse group of Texas artists to explore the distinctions, mergers and transactions between the urban and rural. Artists include Janet Chaffee, Mark Collop, Josie Durkin, John Frost, Todd Hayes, Benito Huerta, Joel Kiser and David Willburn.  — Lucia Simek
Glenn Ligon: AMERICA
Modern Art Museum of Fort Worth
February 12 – June 3, 2012
As a gay black man in the 1980s, the artist Glenn Ligon grew dissatisfied with expressionist painting as a means to convey his deep cultural frustrations, so he began exploring text in his paintings—with words pulled from writers and thinkers like Zora Neale Thurston, Malcolm X, and Richard Pryor—out of his need to give his tangle of identities a visual voice. The use of actual language in his paintings paved Ligon's way into even more varied linguistic terrain: prints, sculptural installations and recently, neon light reliefs, nearly 100 of which The Modern brings together in a retrospective organized by The Whitney Museum of American Art with curator Scott Rothkopf. The work spells out Ligon's particular shape of experience—both in his own body and in the world as an American. Though personal, his work suggests the universal human endeavor of learning to describe ourselves—each on our own, and then collectively as a people. — LS
The Medium and Its Metaphors
Amon Carter Museum of American Art
March 3 – August 12, 2012
Even though it's perched high up there on that scorching little hill in Fort Worth, The Amon Carter Museum flies largely beneath the radar when it comes to local museum limelight, although the place maintains an incredibly ambitious, dense programming schedule throughout the year. Apart from its roster of small, though comprehensive painting shows, the Amon Carter mounts photography exhibits, organized by Assistant Curator of Photography Jessica May, that keep up the thoughtful rigor we expect from the museum.  This spring, May has put together a little photo show called The Medium and Its Metaphors, which will organize work from the permanent collection into critical categories developed throughout the medium's history: the pencil; the handmaiden; the bank; the optical unconscious; the anecdote; the mirror and the window; and the secret, with work by Eadweard Muybridge, Jeannette Klute, Carlton E. Watkins and many more. — LS
Patterns of Prejudice
Free Museum of Dallas
April 4 – 25, 2012
If you're wondering why you've never heard of the Free Museum of Dallas, it may have something to do with the fact that the FMOD is actually the office of Professor and Chair of the Division of Art at SMU's Meadows School of the Arts, Michael Corris. Yeah, literally. It's his actual office. Corris puts up small, insightful shows there, usually with an intellectual, language-based bent. This April, he hands the "museum" over to Marianne Kinkel, Associate Professor of Art History at Washington State University, who has organized an exhibition of pamphlets, cartoons, comics and animated films produced during the 1940s on the issues of racism and anti-semitism. The show includes pamphlets like The Races of Mankind (1944) by Eloise Benedict and Gene Weltfish with illustrations by Ad Reinhardt, and Is It True What They Say About Cohen? (1948) by Bill Levner, both of which aimed to diffuse some of the globe-gripping prejudices during and after the Second World War, a social feat that's just as pressing now—in different iterations, perhaps—as it was then. — LS
Jacob Kassay
Power Station
April 11, 2012
At only 27, Jacob Kassay is the Art World "it kid." His achromatic silver paintings, which critic Andrew Russeth says "look like abused luxury goods," are fetching upwards of $80,000 at auction and even more on the secondary market, while the waiting list for them is dozens of names deep. But while prices for his work may seem like a balloon that rose too fast, Kassay's worth as a deeply intelligent young talent goes undisputed among art writers and art marketers alike. Among his supporters is Alden Pinnell, founder of The Power Station, a non-profit art space that invites some of the world's most progressive artists to have their way with the Station's raw industrial space in hopes of exposing a local and international audience to challenging, discursive work. Kassay will be the first painter to take on the liberating challenge of installing work in the space, following in the steps of sculptors Oscar Tuazon and Matias Faldbakken, and I daresay the entire world awaits his untethered output. — LS
Bret Slater
Marty Walker Gallery
May 2012
After his sold-out show at Thomas Robertello Gallery in Chicago was named as one of the top 100 fall gallery shows by Modern Painter magazine, recent SMU MFA grad Bret Slater was also named one of the 100 "artists to watch" by the same magazine. Locally, Marty Walker has recently added Slater to her roster of artists, with a show planned for April or May. She's already successfully bringing the young artist to the attention of esteemed local collectors. And it's no wonder people are paying attention, the work is incredibly refreshing. Often small,  Slater's paintings are decadently rich but simple. They subtly employ everyday materials like dental floss and staples. Thick with smeared, monochrome paint applied to hand-holdable-sized canvases, the work seems deliciously palatable, instantly referring to buttered bread, wrapped candy bars and other sweet-tooth calmers. But Slater's work is a far cry from saccharine. Instead, it straddles the substantial shoulders of the last century's colorfield and minimalist painters, and strains the seams of those movements with a jolt of punkish energy and intelligent wit, not to mention gobs of luscious paint. — LS
EL PASO
Magnificent Mexico: 20th Century Modern Masterworks
El Paso Museum of Art
Magnitud Mexicana: Visions of Art, January 28 – March 25, 2012
Dibujos Divinos:  20th Century Drawings, January 28 – May 27, 2012
Diego Rivera and the Cubist Vision, January 28 – April 22, 2012
Don't hate Diego Rivera because he's… well, Diego Rivera. Long before the calla lilies, the Monolith of Mexican Modernism was making cool cubist paintings along with other artists who lived, loved, painted, and left a permanent imprint on La Republica's cultural heritage. This massive show is actually three shows, all imported from the Museo Nacional de Arte (MUNAL) and the Museo de Arte Carrillo Gil, both of which are in Mexico City. It's the largest grouping of modernist Mexican masters ever exhibited in El Paso, with 94 original paintings and drawings by Diego Rivera, Jose Clemente Orozco, David Alfaro Siqueiros, Rufino Tamayo, Miguel Covarrubias, and Francisco Toledo among 43 others (presumably one or two of whom are women — yes, we're going there). — RK
HOUSTON
Hillerbrand + Magsamen: eState Sale
Art League Houston
January 13 – February 24, 2012
This spring, Houston video-performance duo Hillerbrand + Magsamen, the "other art guys," will fill Art League Houston with junk and projected video about emotions, family, consumerism and media. eState Sale, their new piece, combines video, sculpture, theater and spring cleaning—inviting visitors to pile unwanted stuff from their closets and garages throughout the gallery. At the end of the show, the heaped post-consumer goods will be auctioned off live for Houston's Star of Hope homeless shelter. A collaborative husband-and-wife team (no plants!), Hillerbrand + Magsamen is Mary Magsamen, curator for The Aurora Picture Show micro-cinema, and Stephan Hillerbrand, who teaches digital media at the University of Houston. Their tragicomic videos, photographs and installations reinterpret the people, activities and objects of their everyday life. – Bill Davenport
Geoff Hippenstiel
Devin Borden Gallery
January 14 – March 6, 2012
Laura Lark: The Liveable Forest
Devin Borden Gallery
February 11 – April 3, 2012
Devin Borden, the newest addition to the row of Galleries at Isabella Court, starts his first spring off right with two overlapping shows that feature Houston artists worth noting. The first, by newcomer Geoff Hippenstiel, reaffirms that in Houston if you're good, you'll get noticed. In the 18 months since his MFA show at UH in March 2010, Borden's intensely material paintings have been included in a three-person show at Darke Gallery, a two-person show at PG Contemporary and now a solo show at Devin Borden, promising large new paintings fraught with zealously emotive marks and spiced with unsettling uncertainty.
The second is a complex, ambitious new show by old-timer [and Glasstire contributor] Laura Lark, a multimedia combination of drawings, paintings, video and installation in which, for the first time, images of men infiltrate Lark's traditionally all-female pantheon of sexy 1960s fashion icons. — BD
This Weird Place
Lawndale Art Center
January 20 – February 25, 2012
Six interesting younger artists cling to the life raft of painting as psychoanalysis: kinda-sorta figurative art with a decidedly unsettled edge. Described by Houston curator and connoisseur of the grotesque, Sebastian Forray (his most recent photos blog sports an amazing spread of offbeat images culled from Flickr) as a "flaying" of representation, a "dissection" of abstraction. New works by a coterie of younger artists include Anthony Record's images from primitive computer programs, Eric Shaw and Cody Ledvina's impulsive pseudo-psychedelia, Lane Hagood's hermetic one-liners, Lee Piechocki's zany pastiches and Alika Herreshoff's blobs teeter between revelation and obfuscation in a sideshow of freaky uncertainty. — BD
Elegant Perfection: Masterpieces of Courtly and Religious Art from the Tokyo National Museum
The Museum of Fine Arts, Houston
February 19 – April 8, 2012
The final tuck in their five-year Asian art facelift, The MFAH's new Arts of Japan galleries open on February 19 with a coup: For the first eight weeks, some National Treasures and Important Cultural Properties from the collection of the Tokyo National Museum are coming to visit, including an 11th-century Manyoshu, the Daito Saiiki Ki, calligraphy by Go-Yōzei and a Heian Dainichi-Nyorai! In April, the MFAH reinstalls its own collection, mixing ancient and ultramodern Japanese art under custom LED lighting by Toshiba. There's talk of commissioning a major work from a contemporary Japanese artist (I vote for Takashi Murakami!), as the MFAH did with Cai Guo-Qiang's enormous gunpowder drawing for the opening of their new China gallery in 2010, but there's no news as of this posting. — BD
Fotofest: Contemporary Russian Photography
Fotofest Headquarters, and city-wide
March 16 – April 29, 2012
Every other March, swarms of photographers and photo-related exhibitions swamp our little art scene, and 2012 is one of those years: Fotofest's 2012 Biennial focuses on contemporary Russian photography, blanketing the city with 200 Russian artists in 70 exhibitions. Globetrotting FotoFest founders Wendy Watriss and Frederick Baldwin are collaborating with Russian curatorial team Evgeny Berezner and Irina Tchmyreva, along with their media partner Natalia Tarasova, to curate three must-see exhibitions that aim at rediscovery of a little-known part of Russian photographic history between the Constructivists and the latest international art stars. The shows will cover 50 years in three big bites: After Stalin, The Personal Voice Re-emerging, the late 1950s-1970s at the Williams Tower Gallery; Perestroika, Liberalization and Experimentation, the late 1980s-2010 at Winter Street Studios and Spring Street Studios; and The Young Generation, 2009-2012 at FotoFest Headquarters, featuring some finds from Fotofest's just-finished portfolio review event in Moscow. Together, the shows will literally write the book on Russian photography (to be published later in 2012 in English, German and Russian). — BD
LUBBOCK
Daniel Kukla: Captive Landscapes
Texas Tech Landmark Arts
January 17 – February 12, 2012
Brooklyn-based artist Daniel Kukla has a background in science: he received his BS in Evolutionary Ecology, Biology, and Evolutionary Human Anatomy from the University of Toronto before studying documentary photography and photojournalism at the International Center of Photography. His science studies inform his subject matter, which ranges from natural environments, to homeless queer youth, to the odd interaction that occurs between humans and animals in zoos. For his series "Captive Landscapes," he has photographed the interiors of animal enclosures at eight different zoos, inviting the viewer to "explore the motivations behind collecting, preserving and controlling the natural world." — RK
MARFA
Data Deluge
Ballroom Marfa
March 2 – July 29, 2012
Ballroom Marfa's spring show is a statistician's dream: expect sculpture, furniture, painting, photography, video and sound art all deriving from sets of data. The show purports to "expand our understanding of how the relationship between art and technology transforms data into information and information into knowledge—and in some cases, inspires a "datactivism" that advances sociopolitical discourse." Setting aside the etymology of "datactivism" (which sounds a bit like something out of the TV show Portlandia), this should be a very interesting show. They've got a large roster of national and international artists, most of whom haven't shown in Texas before.
Artists include: Jon Brunberg (Stockholm, Sweden), Anthony Discenza (Oakland, CA), Scott Hug (Brooklyn, NY), Loren Madsen (Redding, CA), Michael Najjar (Berlin, Germany) and Adrien Segal (San Francisco, CA), with commissions of new work by Anna Von Mertens (Peterborough, NH), Jennifer Dalton (Brooklyn, NY) and Roberto Pugliese (Naples, Italy). — RK
McALLEN
Chad Farris: Facilitating Crisis
South Texas College Library Art Gallery
February 2, – May 11, 2012
Chad Farris is a tough artist to research online; what is known is that he teaches or has taught at the University of Texas Pan-American, that he may be vision-impaired and that according to a cursory 2007 profile in the "Rio Grande Valley Monitor," Farris is fascinated by tattoo art.
The art one can find online, though, passes the expected memes of tattoo, comic, or graffiti art. Farris makes use of an elegant, painstaking line drawing technique and raucous movement reminiscent of Punch, The Yellow Kid's Outcault, and Winsor McCay. The image shown here is one of two available on the Internet.
For Facilitating Crisis, one can find no curatorial statement, artist bio, or press info whatsoever. The materials and dimensions of the image given here are unknown. Luckily, there would seem to be a whole show by Chad Farris in McAllen this spring, so we can find out about this intriguing artist ourselves. — SF
NACOGDOCHES
Rastlin–A Southern Survey: Photography by David McClister
Stephen F. Austin State University College of Fine Arts
The Cole Art Center, Reavley Gallery
Through January 21, 2012
If you thought the movie "The Wrestler" was a grimly compelling look at the seedy underbelly of small town wrestling, just wait until you get a load of David McClister's photographic series on the topic. McClister is a Nashville-based editorial photographer and music video director (credits include LeAnn Rimes and the Black Lillies, among others). Here he puts his magazine cred to good use, capturing the spectacle in the ring, the audience thereof, and the quiet tedium backstage. You won't see Mickey Rourke getting staples pulled out of his back, but you will see blood, nostril-hooking and sweetly homespun wrestling costumes. — RK
SAN ANTONIO
Andy Warhol: Fame and Misfortune
McNay Art Museum
February 1 – May 20, 2012
The post-staid McNay Art Museum showcases 150 Warhols across media, era and genre, a selection on loan from the foundational collection of Pittsburgh's Warhol Museum. As the title suggests, René Paul Barilleaux, McNay's chief curator and curator of art after 1945, assembles this particularized one-time grouping around the dueling theses of Warhol's canonical preoccupations—celebrity pop and mortal rumination. Housing the myriad physical evidence in one exhibition center will prove less blithely entertaining than sincerely educational (here's hoping). When face-to-face with not just one, but many famous faces, unmediated by reproduction, is a genuine art experience possible? Or will Marilyn and Jesus present a flat effect muddled by the ubiquity of the Warhol brand? — SF
Luminaria: Arts Night in San Antonio
HemisFair Park
March 12, 2012
March 12 rolls out the fifth annual one-night arts festival conceived by former Mayor Phil Hardberger, based on the "White Nights" of Paris and other free nocturnal public art encounters around the world. Luminaria is meant to expose contemporary art to everyday San Antonians and vice versa and has done so—over 300 thousand revelers took part last year—with some mission drift and confusion along its trajectory.
Conventional and critical wisdom holds that Luminaria 2008 transformed downtown into a magical art doppelganger; 2009 saw the occupation of Alamo Plaza, the old Joske's department store windows and other quotidian spaces, turning them into reflections on culture and memory. 2010, dubbed "Lame-inaria," was the first time the fest was shut out of its downtown storefronts and alleyways, and enclosed in the little-used, soon-to-be redeveloped HemisFair Park (which includes the rotating Tower of Americas), and felt like NIOSA with lasers. Luminaria 2011 used a new system of curatorial zones which yielded some strong exhibitions despite woeful signage and some problematic corporate sponsorship.
Now in its third year in the HemisFair footprint, Luminaria makes a higher-stakes bid for contemporary status, bringing in outside adjudicators to aid in the spotlighting of various artists from the region and beyond. The visual arts adjudicator for Luminaria 2012 is Contemporary Arts Museum Houston curator Dean Daderko.  — SF
Contemporary Art Month (CAM)
All of March, numerous locations
Contemporary Art Month is, well, a month-long city-wide focus on contemporary art from San Antonio and elsewhere-based artists, with numerous events and showings in various venues, some art-world-related, some not. In particular, Andy Benavides's collaboration with SA hotels in his "Invading Spaces" campaign has brought some kick-ass work into unlikely fora. The main difference between CAM and Luminaria (aside from Luminaria taking place over one night in one park and CAM spread out around the city for 31 days) is that CAM was started as an upstart, grassroots anti-festival, whereas Luminaria was begotten by city fathers as a civic revelry. While the old-skool July dates made for some tongue-in-cheek subversion of art experience, in March you can participate in the Dignowity Hill Pushcart Derby or a self-directed studio tour without your face melting off your head. That Luminaria takes place during CAM is a matter of continued confusion, and possibility. — SF
Whew! Think we missed something great? Post it in the comments below.