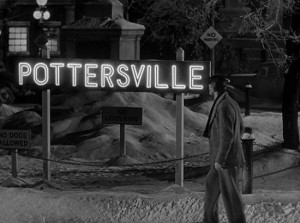 It's easy to remember only the sweet, cheery and teary moments of Director Frank Capra's 1946 film, It's A Wonderful Life, and forget that it takes us through the depths of despair to get us there.
Since the early 1970s (when the film's copyright lapsed and television stations could air it repeatedly around Christmastime without paying royalties), Wonderful Life has become, to some, a beloved, seasonal movie ritual, and to others, televised holiday ambience­– loveable, familiar, and powerful enough even as it is fragmented by commercials, flipping channels, and kitchen conversations. Even though I'd seen it every year since I was Zuzu's age, it wasn't until I watched it as an adult in full and without distraction that I realized just how deep, dark, relatable, and therapeutic this masterpiece of humanist cinema guised as feel-good Americana really is.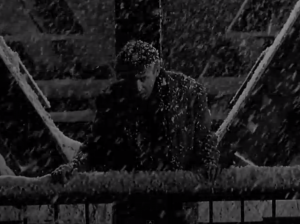 It begins with a child's voice saying to the heavens, "Something's wrong with daddy," and goes on to illustrate the life of intertwined play, trauma, dreams, and disappointments that have led stand-up small town businessman George Bailey to contemplating suicide on Christmas eve. George is a good and funny man who gave up his grand dreams to stay in town and run the family business- the one thing in their community not owned by greedy mogul, Henry Potter. Mr. Potter is rich and mean­ (like Scrooge, except Potter never really sees the light.)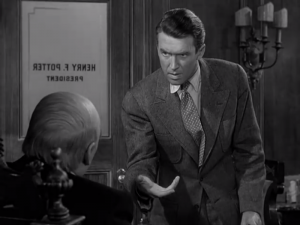 Even as a kid, I got the message: Being a good person can suck, but it's worth it. As an adult, this annual affirmation has been encouraging, and the film has unfolded as I've dealt with more complicated issues in my life. But in my recent viewing of the film, I couldn't help but see in it the urgent warning that if we're not careful we'll all be living in Pottersville. (Maybe we already are?) Beyond the personal story and Christmas card frame, It's A Wonderful Life is all about money, and about two diverging approaches to "the American Dream". Now, 65 years after the film was made, it's a timely reminder that the average person can affect change, and, in fact, can be wealthier than the 1%.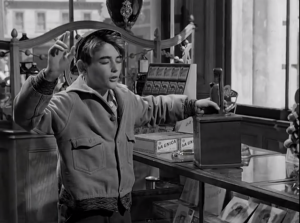 I know that I'm not saying anything revelatory here, and that championing an acknowledged, accessible holiday classic seems a little obvious. But I thought I'd just suggest to any of you struggling with personal, professional, and/or political issues this holiday season, that you may want to consider revisiting Bedford Falls. I did, and it reminded me that small things matter, that battling greed with good is a worthy cause, and that the flower petals are still in my pocket.