This Thursday, Saturday, and Sunday, the Museum of Fine Arts Houston is showcasing the artistry of filmmakers Stephen and Timothy Quay with a special series including six films spanning 25 years– from their early puppet animation masterpiece Street of Crocodiles to the Houston premiere of their latest film, Through The Weeping Glass.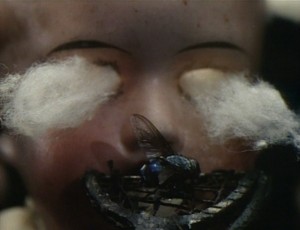 I remember–back before the internet–when the Quays were a very mysterious entity. They were enigmatic, twin alchemists who cooked up strange, miniature worlds. They were assumed to be either Asian or Eastern European, possibly not even brothers but rather a team of people or maybe one non-human creature, toiling away in some dark cellar summoning up mystical forces and bringing to life discarded objects and distorted visions. The art nerds and goth kids somehow knew of the Quay brothers (or the Brothers Quay, as they were referred to.) But there wasn't much to talk about. They made legendarily strange films that few had seen. The creepier of the 80s MTV id's were their handiwork. And very cool people seemed to like their stuff. That was pretty much it.
Now their films­ have become more widely known and have influenced a ton of filmmakers and visual artists. A big career-spanning retrospective exhibition and film series opened at MoMA in August. And it turns out they are, in fact, human identical twin brothers, and seemingly normal if a bit reclusive. They are originally from a small town outside of Philly but have lived in London for a long time. And rather than conjuring dark spirits, they draw on a range of influences and create their own stuff­–sometimes frame-by-painstaking-frame. But no amount of context or analysis can demystify their work. Quay films are still complete enigmas.
The Quays are not only animators of puppets and objects, but also of space, perspective, and especially of light. They are meticulous choreographers of experience, and whether working in animation, live action, or a combination of the two, they are puppetmasters of the viewers as much as of the alternate universes we're visiting. Peculiar movements and unresolved stories are pulled briefly from their underworld lurkings, as we're pulled down into the blurs of the subconscious. To call their experimental film poems "dream-like" seems like an understatement. Quay films ARE dreams, creating powerful, haunting impressions that immediately recede back into the shadows the moment the lights come up. They are (as the preceding jumble of words might indicate) indescribable. And unfathomable. I highly recommend seeing them. I warn against "understanding" them.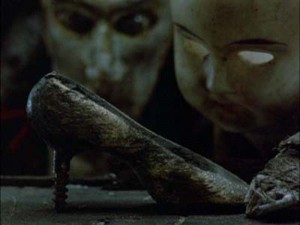 Fortunately, the museum's Considering The Quays series this week gives you the opportunity to experience them for yourself. The selection includes two of my favorite short films of theirs, Street of Crocodiles (1986) and In Absentia (2000), both shown on 35mm prints. The 20-minute, stop-motion animation, Street of Crocodiles (shown Thursday at 7PM, preceding their 1995 feature-length film Institute Benjamenta) is perhaps the best introduction to their vision and mastery. In their interpretation of a short story by Polish writer Bruno Schulz, a drop of saliva sets in motion a journey through a miniature world of string, dust, screws, scratched glass walls, eye-less dolls, and wind-up monkeys. The wide-screen, hybrid live-action/animation film In Absentia­–a collaboration with experimental music composer Karlheinz Stockhausen–­explores the manic, repetitive actions of an imprisoned woman. This one will be shown Saturday at 4PM, preceding their 2005 feature-length film Piano Tuner of Earthquakes.
The Sunday afternoon screening showcases recent commissioned digital video works for which the Quays were given access to explore collections of art and artifacts. These are experimental documentaries of a sort, and somewhat of a departure from their earlier work. But they are unmistakably Quay, and despite some odd forcings (including some of the establishing shots and occasionally over-handed, creepy music), there are some fascinating subject matters and nice sequences in these.  This program includes their most recent film, Through The Weeping Glass, an exploration of the objects and odd histories found in the Medical Collection of the College of Physicians of Philadelphia, including skeletons, skulls, preserved bodies, a plaster cast of the conjoined twins Chang and Eng, and some really striking medical illustrations and paintings. (I should warn that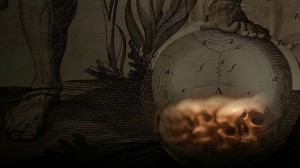 some of this content, especially the old medical tools and procedures described, is not for the squeamish.) This will be shown with a companion, behind-the-scenes documentary, which is a bit long but a nice, rare look at the Quay's process. Seeing their designed light scrims was a little revelation for the film geek in me.
These special screenings are a treat for Quay fans, and an opportunity for wider audiences to delve into their work. To the uninitiated, I must say that I cannot guarantee that you'll like these films any more than I could guarantee you'd enjoy a visit to my own dreams. But I can say confidently that they provide unique film-going experiences, and suggest going to the Thursday evening screening of the earliest work in the series and deciding from there whether or not to continue the journey over the weekend.
Museum of Fine Arts Houston, Dec. 6, 8, 9, 2012
Thursday, Dec 6 (7 PM)
Institute Benjamenta (1995, 35mm, 104 minutes)
Shown with short film Street of Crocodiles (1986, 35mm, 20 min.)
Saturday, Dec 8 (4 PM)
The Piano Tuner of Earthquakes (2005, 35mm, 99 minutes)
Shown with short film In Absentia (2000, 35mm scope, 20 min.)
Sunday, Dec 9 (1 PM)
Through The Weeping Glass: On the Consolations of Life Everlasting (Limbos and Afterbreezes in the Mütter Museum) (2011, digital video, 31 min.).
Behind the Scenes with the Quay Brothers (2011, digital video, 31 min.)
Inventorium of Traces: The Phantom Museum (2008, digital video, 23 min.)