For more on this article, see the follow-up UPDATE: Why "Unerasing" a Sol LeWitt is Impossible. – Ed.
Swamplot has a great article on the slow reappearance of a big Sol LeWitt painting that was commissioned by the late architect William F. Stern. Stern was a trustee of the Menil Collection and left his house and his art collection to the museum, with one stipulation—it could not sell off the artwork.
Certainly, the Menil was thrilled to enter Stern's fantastic collection into the museum. The LeWitt painting, though, was site specific, painted directly on the wall, and could not be removed without damage to the work. So, when it wanted to sell the house, the decision was made to cover the work with plaster. The house was sold; the LeWitt was not.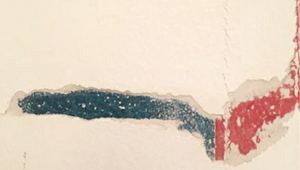 But the new owner later told the story to a house guest who then picked up a butter knife and began picking at the wall. Sure enough, the LeWitt seemed to be intact behind the thin layer of covering. The painting has since grown to a wandering line across the wall.
The website UnerasingSolLeWitt.com begins with the following statement:
In 2013, upon the death of noted Houston architect William F. Stern, the Menil Collection became the owners of his award-winning modern house and his extensive art collection.
For undisclosed reasons, the Menil chose to sell the house and since they could not sell an artwork that had been bequeathed to them, they painted over the 30-foot-tall Sol LeWitt wall drawing that Stern had specially commissioned for the space in the early nineties, just before he broke ground for construction.
The Stern house was purchased in 2014 by a local dentist and art lover.  After much speculation about whether the LeWitt might be recoverable, a friend who was visiting in December 2017 began to chip at the painted wall with a dull knife, seeking answers.  What he discovered surprised everyone: the LeWitt had been covered by a thin layer of sheetrock mud which easily flakes off revealing the beautiful colors of what lies underneath.
This will be the story of Unerasing a Sol LeWitt.  More to come.
We should expect some discussions between the estates of Stern, LeWitt, the Menil Collection, and the new owner.