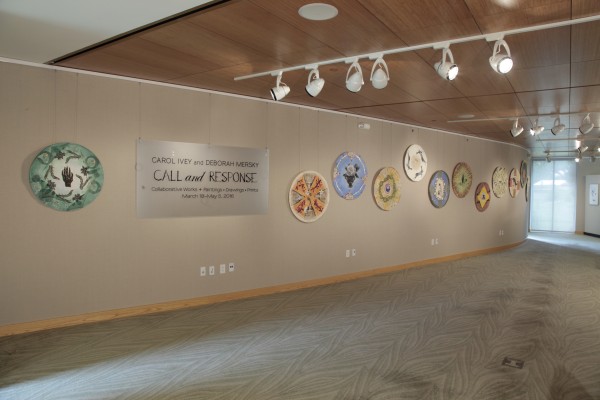 Where would the science of botany be without art?  Long before the invention of photography, artists recorded the natural world with enough detail to facilitate the classification of plant species.  But botanists found that they could also collect and dry plant specimens and store them in herbariums, which are essentially museums of preserved plant specimens used for botanical research. The Botanical Research Institute of Texas (acronym The BRIT) came into existence as a Fort Worth non-profit in 1987 after Southern Methodist University decided to close its herbarium and botanical library. The BRIT assumed control of the former SMU collections that were initially housed in a Fort Worth warehouse for a time, and in 2009 opened a new public building to contain the expanded herbarium (now doubled in size after additional donations of herbarium collections). It includes the botanical library and space for public educational programs, and an exhibit space called the Madeline R. Samples Exhibit Hall.
BRIT's exhibition hall has been used in the past to display the work of artists whose art is inspired by nature, among them Billy Hassel, Luther Smith, Deborah Paris and Delia DeVer. The current exhibition, Call and Response, features individual and collaborative works by Carol Ivey and Deborah Mersky. Both artists are long-term friends who have an affinity for nature which inspires them and features prominently in their art. The artists' statement indicates the title Call and Response refers to art that was derived from an "emotional impulse driven by direct contact with the natural world."  The title also refers to the experimental collaborative pieces that were passed back and forth between the artists, with each artist in turn adding or deleting visual elements. These round collaborative pieces can be seen in the installation view above.
Unified by their circular shape, the collaborative mixed-media pieces include a variety of images made with ink, watercolor, gouache, and charcoal on collaged paper, with occasional additions of gold leaf and vintage scarves.
Ivey says that "collaborating is something we've talked about for a long time." She recalls urging Mersky to add on to a round mixed-media paper work that Ivey had created years earlier.  So their collaborative work started with that form.
Mersky added: "We agreed on a size and eventually found that passing the pieces back and forth worked well; we had several sessions where together we mulled them over and had suggestions for each other. The mutual aspect was freeing as was working outside our normal patterns and habits. For me the experience was remarkably different from my usual, singular-person process, and the pleasure of doing the pieces came as a revelation. I loved and benefitted from having the surprise elements to play off of. Once the pieces were sent off, I eagerly anticipated their return with their unforeseen changes."
Hand with Oak and Trompillo juxtaposes Mersky's printed image of a hand and oak branches with Ivey's precisely rendered fruit of a member the nightshade family, Solanum Elaegnafolium.
The colors and the repeating asymmetry of the cactus, the bowl, the larger circle, and the irregular looped chain create Red Rim.
In addition to the collaborative works, both artists are represented in the exhibition by nine or ten of their individual artworks. The subjects of Ivey's paintings are typically found objects that she paints "from direct observation under the condition of natural lighting in my studio."
Ivey's work fuses still life and realism, and works such as Sequential States – Sunflower shows the progression of dying and dead states of the same plant.
Ivey included several watercolor paintings of selected specimens from The BRIT herbarium collection in the exhibition, including this example of a flowering Coral Honeysuckle plant that was dried and attached to a backing sheet used to hold plant specimens.
Mersky's work here is made up of her sketches of mushrooms that grew out of her experiments with inks made from ingredients around her house, including oak gall, cochineal, and agarita root. "My favorite is the mushroom ink, a concentration from spore pigment from the Pisolithus Tinctorius, also known as Dead Man's Foot." (Ivey's portfolio of watercolors, seen in the background, were painted when she lived in Seattle.)
Ivey's delicate drawing of figs on a branch has an echo in a contour drawing that anchors the center of the collaborative work Round Rabbit.
The so-called Compass Plant (Silphium laciniatum) gets its name from its lower leaves that orient themselves according to the position of the sun. In Ivey's delicate drawing of the plant's dead leaves, they curl askew, casting soft shadows.
For most of her images in this show, Mersky used a clay printing technique in which she carves the surface of a clay slab, then prints it with oil-based inks. The printed images were then cut out and collaged onto another backing paper.
Mersky's homage to the bat emphasizes its significance as a pollinator in the ecosystem by pairing the bat with plant life in this monochromatic print.
So why combine the jarring image of a gun together with a frog and clematis? According to Mersky: "I breathe in the plants and air, the habits of animals close by, the tension of a world out of kilter, and breathe out these images and objects… . Present always is an underlying eye toward the subtle chaos of nature's demise at the hand of human greed."
Mersky says, "My studio effort is an intuitive meandering of pattern and repetition. I have an impulse to create hypnotic gesture, the imagery based in the surrounding natural world. My imagination reworks what I see and study."
A strong image with which to end the show is Frontier, a quintessential Texas work that combines our obsession with firearms with an ominous reminder of our impact on a world rich with living creatures.
'Call and Response' featuring Carol Ivey and Deborah Mersky, extended through May 7 at the Madeline R. Samples Exhibit Hall, Botanical Research Institute of Texas, Fort Worth.
(Carol Ivey lives and works in Fort Worth, Texas.  Deborah Mersky lives and works on "five wild acres in Blanco County, close to the Pedernales River."  For more information about the artists, visit http://deborahmersky.com/  and http://www.artspace111.com/carol-ivey/.)