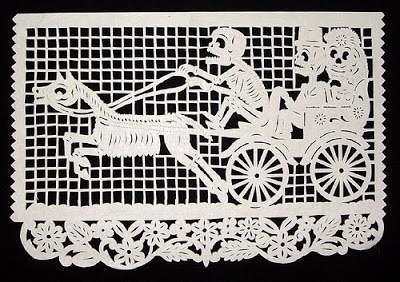 For those gearing up for Día de los Muertos (Day of the Dead), Houston's Lawndale Art Center is offering a free workshop this evening at 6pm in the art of papel picado. Visitors will not only learn about the traditional art of Mexican paper cutting, but will also get to create and take home their own creation. Lawndale will host its 28th annual Gala and Retablo Silent Auction this Friday from 7-9pm. It costs $65 for non-members and $40 for members, but attendees get a chance to bid on retablos made by almost every single artist in town. (Seriously. Check out the humongous list of participants on its website.) The retablos are up now for preview during normal gallery hours.
Dates for Día de los Muertos events seem to be all over the place this year (and some have already passed), so check out your local festivities. Here are a few more in other cities:
SAN ANTONIO
San Antonio has stuff going on everywhere, including a huge celebration at La Villita Historic Arts Village this Saturday (10am-11pm) and Sunday (noon-10pm). On November 5-7, SAY Sí presents it 9th annual Muertitos Fest, a family-focused festival that commemorates the rich Mexican-American culture of San Antonio. On November 1, the Guadalupe Cultural Arts Center will host its Galería Altar Exhibition in the afternoon with outdoor performances and workshops in the evening.
AUSTIN
This Saturday afternoon, the Emma S. Barrientos-Mexican American Cultural Center celebrates from 2-7pm. The Mexic-Arte Museum, who has been doing the Día de los Muertos thing for over three decades, will host its festival and parade on October 31; its community altars are already on exhibition.
DALLAS
Tons of nightclubs are holding vaguely theme-related events throughout the weekend for those who like tequila and scary music, but the Bishop Arts District is hosting its Los Muertos party on Monday evening, November 2, 6-10pm.
CORPUS CHRISTI
K Space Contemporary has its exhibition El Camino Iluminado: Altars of Remembrance already on view (and check out the new Loteria mural on the south wall of the former Kress Building!), but the big Dia de los Muertos Festival will take place on October 31, 3pm-midnight.
If you know of more cool events, please post below.
Go celebrate the dead! Go celebrate life!