Seldom have I experienced an exhibition that seemed as organically sited as Mari Hernandez' What Remains at Southwest School of Art in San Antonio. Standing in the center of the gallery, one can turn and see every piece in the show. Gallery lighting achieves the expected function, and yet it also creates the effect of a darkened theater — very apropos given the nature of this artist's photographs. Even the air conditioning seems to conspire in a curatorial mode.
"I make photographic self-portraits exploring identity and construction of the self," Hernandez explains. Altering her appearance and beaming inward to draw from a deep well of informed imagination, intuition, and fierce and graceful determination, the artist sort of floats in space as a character emerges from her mortal force and then performs that "invisible made visible" existence in a still image. Along with 17 new works that are complete with names and subtle/distinct characteristics, What Remains includes four unnamed soldadera images from 2002.
The new pieces are inkjet prints on crepe de chine, hung suspended out from the walls a few inches. It's flat-out one of the loveliest and most mystery inducing ways I have ever seen pictures presented. Their shadows pulse and sway in the waft of the a.c. blower. The image-embodied personages breathe and silently moan, sing, scream. What they have seen is what remains. Narrative drifts and springs from the individuals' names and from the shifting nuances that inhabit the details of appearance, alteration, gaze, bearing, and pose.
None of the women in the 17 new images directly face the camera. Chavela is seen in profile with a wistful expression, her hair in tight curls, not flowing, both hands clasped in thoughtful fists beneath her chin. In Chavela Pledged to Justice, we see the slightest hint of the far side of her face. The image reaches below her waist, and we identify more of the flowered dress. She has donned a small cloth cap, perhaps an act of simple formality. There is a slight air of unease that she seems to simultaneously overcome with a steely resignation that strives to give her a sense of peace through the idea and ideal of justice.
Delfina presents a severe profile with a pronounced prosthetic nose. Long, thick, wavy hair flows down the back of her peasant blouse. Delfina of the Gods allows a sliver of her far eyebrow and eyelid to be seen. The more subdued, downward-gazing Fidelia wears a large, black lace shawl over a white blouse. Fidelia the Faithful shows a similar profile image with the same pronounced nose, but something animated about the image has come into play, some spark that doesn't necessarily transform the performance but offers the possibility of transformation. Even the head shawl reads as being somehow more alive. 
Socorro offers another stark profile of a woman in a plain white blouse with a high collar and hair that is tightly bound. In Soccoro to Provide Relief, she has turned to a 2/3 profile, and we can see much of an open, ready facial expression that is calm and perhaps only moderately non-plussed by the situation that has been summoned for the character's review. The nearly full profile of Adonia the Beautiful Woman holds her chin in a somewhat regal pose, revealing a hard-won confidence that is not necessarily present in Adonia.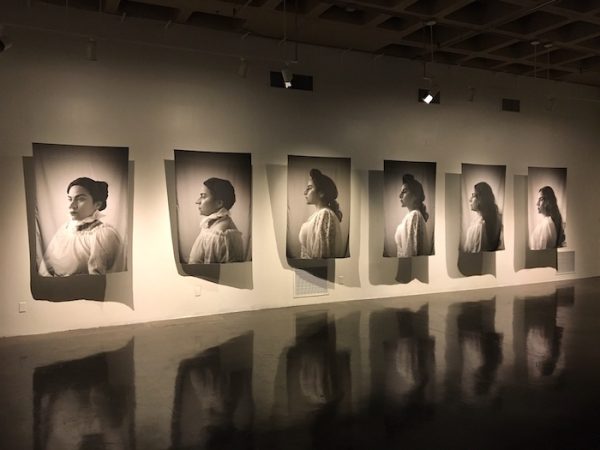 The unnamed, early career soldadera portraits, all inkjet prints on Photo Rag from scanned film negatives, offer a look at Hernandez' formative practice. Though less complexly rendered than later work, the four images included here provide nonetheless a powerful echo to the images of female soldiers found in books like Las Soldaderas: Women of the Mexican Revolution by Elena Poniatowska. (Was there ever a human conflict that produced more intriguing photography than the Mexican Revolution of the 1910s?)
Hernandez' web site includes a short video in which she offers a remarkable account of her process. There is definitely something uncanny happening as the frames speed up and someone else appears where the artist's head used to be. "My work explores the concepts of rasquachismo, an aesthetic practice opposing dominant culture and articulating a Chicano identity, and domesticana, a specifically Chicana variation that critiques restrictive gender roles," Hernandez explains in an artist's statement.
Her self-portrait work seems uniquely both contemporary and vintage. With the "RESIST" theme — one unnamed character (perhaps Ximena the Voice) carries a RESIST flag that also stands on a pole in the gallery — and the somewhat Victorian-era costuming, I sometimes have the sense that I am looking at colleagues of the Laredo and San Antonio journalist and activist Jovita Idar (1885-1946), who helped organize what is considered the first Mexican-American militant feminist social movement.
Hernandez also has several pieces in the current group show The Other Side of the Alamo: Art Against the Myth at the Guadalupe Cultural Arts Center. Her 2016 digital photograph The Signing reinterprets the execution of the Treaty of Guadalupe Hidalgo as a drunken tableau of corruption and greed, complete with pig snouts. Included in the artist's Hombres series, the self-portraits in this show "address the current political climate and the culture of political hegemony."
Guadalupe wall text cites Cindy Sherman as one of Mari Hernandez' aesthetic influences, and I can certainly see that. But I would also offer the work of Eleanor Antin as another important forebear. "Essentially, I invent histories," Antin once said of her practice. "I began to see that a human life is constructed much the same as a literary one. A person writes his autobiography about past events. After the fact there is only history and history is always fiction… ."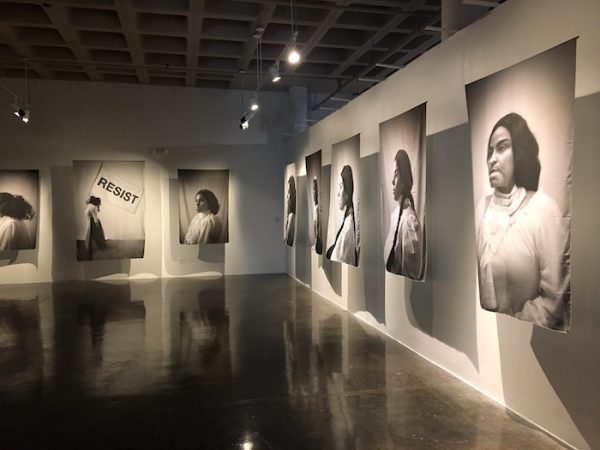 'What Remains' is at Southwest School of Art in San Antonio through July 29, 2018.
'The Other Side of the Alamo: Art Against the Myth' is at the Guadalupe Cultural Arts Center, San Antonio, through October 2018.