Most people in San Antonio have been to First Friday. For years, the city's most recognized venues for contemporary art have clustered in the Blue Star Arts Complex, the center of a tradition of gallery hopping, shopping and pub running.
Last year, this experience shifted dramatically. We began 2012 with the 'hegemony' of the Blue Star Arts Complex in full force and ended with a different picture. In March, Joan Grona of Joan Grona Gallery declared she would close her doors at the end of the month. Other galleries followed: Cactus Bra, Three Walls, and Stella Haus would close as well. Jumpstart Theater announced that it would leave the complex soon after. Within a few months, a group of galleries that had produced an energetic aura of contemporary art for art lovers and tourists for over a decade was gone.
Despite complaints in recent years that First Friday was more of a 'party crowd', or that Blue Star Arts Complex was just a shadow of what it used to be: an important catalyst in contemporary art production and display, First Friday seemed to be thriving until the developers of the Blue Star Arts Complex property made the decision to go upscale, increasing rents. First Fridays continued, but the only places worth visiting in the Blue Star Complex were Blue Star Art Museum and UTSA Satellite Space. With Sala Diaz and Unit B still working on the First Friday calendar in the area outside the complex, the four institutions are keeping First Friday alive in the eyes of contemporary art.
But something else was going on: as galleries were closing at Blue Star, other galleries, mostly run by a younger generation, were opening at the Lone Star Arts District. Sean FitzGibbons appointed the Lullwood Group to take over Lone Star Gallery, Comminos Studios opened next door to him, Gravelmouth moved to the S.M.A.R.T. Art Project Space.  Lady Base Gallery opened inside Gallista Gallery, 3rd Space and SOPAC Studio opened their doors, and there are rumors of other galleries who might follow. Many wonder if the Lone Star Arts District will slowly take Blue Star's place.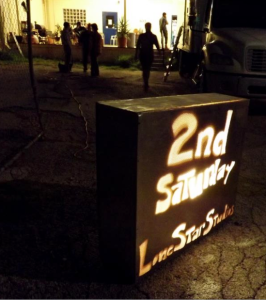 Second Saturday, the Lone Star Arts District's own night out, is nothing new. It has been around for about 18 years. One9Zero6 was the first gallery in the area. Then Andy Benavides, Founder of S.M.A.R.T, and Joe Lopez of Gallista Gallery moved in. Benavides participated in the early stages of First Friday in the King William area and after moving to Lone Star he decided to begin Second Saturday. It always played a secondary role to First Friday, but it has been developing quietly over the years. In 2012, when First Friday was still in the spotlight, Second Saturday was already an important alternative event in the city's calendar with SMART Art Project Space, R Gallery, Gallista Gallery, Fl!ght Gallery, Gravelmouth, Lone Star and Gallista working hard at the production of Contemporary exhibitions.
Will Lone Star Arts District and its artist-run galleries take the place Blue Star Arts Complex? The answer is not simple. Strong institutions in the Blue Star Arts Complex have good artists, the budget for more ambitious projects, and a slight push for a more experimental curatorial approach. You would think that because Lone Star Arts District has more artist-run spaces more curatorial experimentation would take place, but I do not think that is necessarily the case.
Lone Star Arts District has a more laid-back crowd and a more flexible roster of artists. As far as experimentation in production or curatorial projects, their final product is similar to that at other institutions near Blue Star, but they do have a more adventurous approach to the concept of their organizations. Lady Base Gallery concentrates on works by women and LBGTQ artists. The Lullwood Group, curating what used to be Lone Star Gallery, is one of the only art collectives in the city. Gravelmouth provides a space for artists with a street art influence. The galleries in Lone Star Arts District are definitely challenging the boundaries of what should be discussed and of how an art institution should be or can be structured.
So, is the epicenter moving? If you think of how people perceive the art scene in San Antonio, then, yes. It is very common in smaller cities to think of a polarized world where only one alternative is the strongest, but San Antonio should not be like that. Once-secondary areas such as Second Saturday are growing and moving to the spotlight. Hopefully, more options of contemporary art will continue to arise.