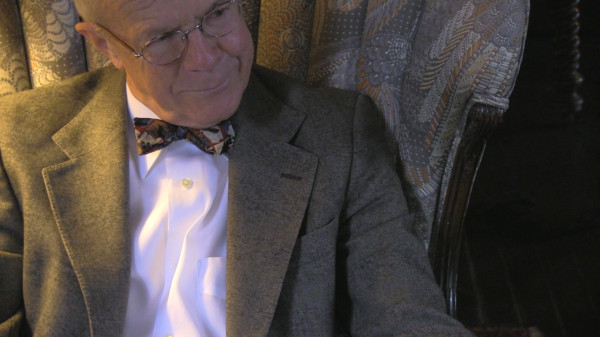 On June 17th, the San Antonio Film Festival screened Michael Berrier's Lucy and Jake. It's basically a documentary about San Antonio's art scene, held together with a fictional love story: Lucy is a journalist living with Jake, a photographer, and she cheats on him. The ensuing drama is played out through via her ridiculous assignment to write an article about the local art world's sex scene — impossible from the start. If someone actually did confide in her, would she ever actually report the details? Meanwhile, everyone in the film knows the raunchy details of her own infidelity.
Many San Antonio artists and art philanthropists appear in the film, including Mike Casey, Megan Harrison, Andy Benavides, Judith Cottrell, Bill FitzGibbons, Nate Cassie, James Lifshutz, Aggie Eyster, Kathy Coiner, Casey Arguelles and Tommy Gregory.  There's no fancy makeup or lighting. Aside from the two main characters, everyone is just himself or herself.
Technically, Lucy and Jake is amateurish, but that doesn't stop it from being funny and entertaining for anyone who knows the people. Berrier did a pretty good job of sequencing scenes, but the shots were sometimes out of focus, and there were abrupt cuts between scenes filmed at different times of day and with different sound levels. The camera jerked, and the tight shots were a little too tight, but I admire how Berrier told his story without letting a low budget stop him. Some shots are really good, like when he films people from slightly above. The best parts were when he played great local music (like SA's The Swindles) as background for scenes where the lovers brood over their situation.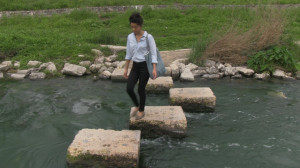 Berrier is a self-taught filmmaker, and he did everything himself: writer, director, camera, sound, editing. The film's very existence is a testament to his strong will and creative energy, and the generosity of his friends and neighbors who appear in the film. Lucy and Jake premiered a year ago at Blue Star. Since then, Berrier has already finished Prisoner of the Collective, and he's working on another new film now.
There's something really fun about seeing your own surroundings as the context for a narrative other than your own personal one. As viewers, we get to accompany Lucy on her interviews for her sex article, and separately, we follow Jake as he takes pictures of the subjects. We get to go inside Mike Casey's real house and see his favorite piece of art, and glimpse a Ken Little red shoe sculpture in James Lifshutz's house. Lucy asks her interviewees awkward questions about their sex lives. Nate Cassie says he's an old married guy and has no clue. When Lucy asks art collector Kathy Coiner, "Have you ever slept with an artist?" Coiner responds, "If I told you, I'd have to kill you!"
Compared to big-money features, this film is rudimentary, but I didn't mind watching through the technical glitches to get to the good stuff.