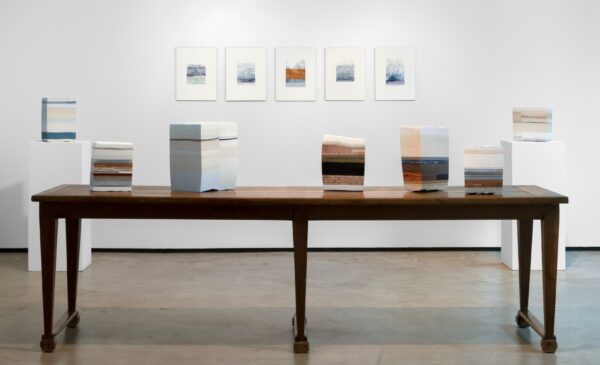 Note: the following is part of Glasstire's series of short videos, Five-Minute Tours, for which commercial galleries, museums, nonprofits and artist-run spaces across the state of Texas send us video walk-throughs of their current exhibitions. Let's get your show in front of an audience.
See other Five-Minute Tours here.
Bethany Johnson: Log Book at Moody Gallery, Houston. Dates: September 16 – October 21, 2023.
Via the gallery:
"Moody Gallery is pleased to present an exhibition of recent sculptures and works on paper by Bethany Johnson. Log Book is Johnson's fifth solo exhibition at the gallery.
Of this new series, Johnson states — 'Reminiscent of geologic formations, and appearing perhaps at home within a cabinet of curiosities, the intimate sculptures in Log Book offer a multi-layered meditation on deep time, material metamorphosis, and the anthropogenic land-scaping of landfills, quarries, and road cuts.
These sculptural works take the form of stratified plinths of contrasting materials that are reminiscent of geological core samples, landfill strata, archival stacks or material storage. While the layered compositions strongly evoke land formations and geologic processes, all of the materials are discarded manufactured items, thereby also addressing notions of anthropogenic waste and its entombment.
The dimensional works are first assembled and composed by cutting and stacking these collected materials, which include plastics, papers, books, aluminum, fabric, rubber, vinyl, and wood. Densely bound together with mechanical pressure—by a hidden internal armature of screws and bolts—the final sculptural forms are then trimmed and sanded to a smooth polish.
The works' satin surfaces evoke the hand-worn patina of worry stones, and the modest scale suggests the intimacy of a beloved keepsake, archived natural specimen, or historically hand-hewn scientific models. Despite their commonplace or otherwise abject component materials, the final results are mysterious and entrancing: the weighty sculptures reveal themselves slowly, asking for close examination and gradual discovery of their material origins.
In Log Book, these sculptures are accompanied by a group of drawings that similarly incorporate collaged found paper ephemera to construct landscape-like images that are both spacious and flat, at once poetic and gently matter-of-fact.
As a quietly urgent meditation on the damage of material consumption on our natural environment, the works of Log Book offer a new alchemical life to otherwise discarded waste. This body of work addresses the artists' growing concern around anthropogenic environmental degradation, serving as a holistic practice that functions simultaneously as artmaking and act of doting service, aesthetic inquiry and humble act of environmental remediation. The works speak in layers to notions of scale, deep time, the accumulation of knowledge, and our collective futures on this planet."