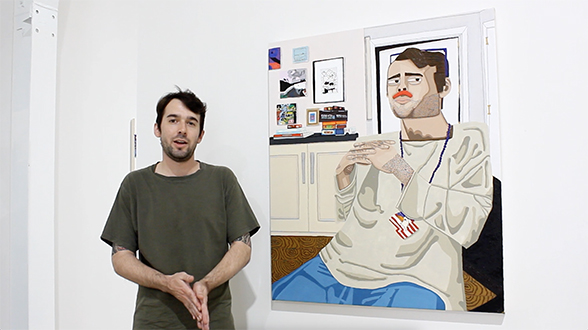 Note: the following is part of Glasstire's series of short videos, Five-Minute Tours, for which commercial galleries, museums, nonprofits and artist-run spaces across the state of Texas send us video walk-throughs of their current exhibitions. Let's get your show in front of an audience.
See other Five-Minute Tours here.
Brantly Sheffield: It Was a Good Time at Ro2 Art Gallery, Dallas. Dates: June 17 – July 23, 2023.
Via the gallery:
"In It Was a Good Time, Brantly Sheffield's portraits exude familiarity and personality. The distortion of the figures illustrate his emphasis on rendering the figure's personalities. Sheffield gives agency and awareness to his figures in order to generate a response from the viewer. His pieces delve into the relationships we keep and the intimate impact that they have on our lives and the persons that we become. These narrative elements seek to encourage the viewer to form a relationship with the figures, one designed to entice playfulness. Sheffield's unique take on reality is beautifully encapsulated in and throughout his artwork."