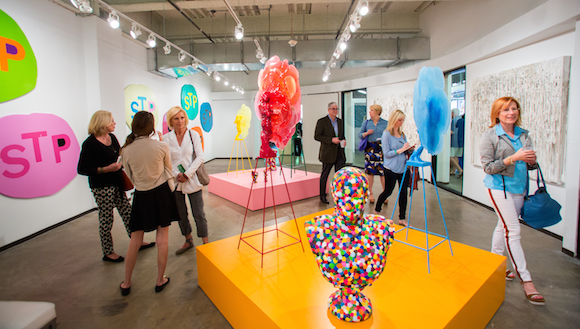 This week, the Dallas Art Fair released a list of exhibitors for the fair's eighth iteration, taking place April 14-17 at the Fashion Industry Gallery. There are a total of 97 galleries participating, including 39 that are new to the fair and 33 that are international.* Aside from the DFW-area participants, however, Texas galleries remain absent from this year's roster.
DFW galleries include:
AND NOW
Barry Whistler Gallery
Conduit Gallery
Cris Worley Fine Arts
Erin Cluley Gallery
Galleri Urbane
Kirk Hopper Fine Art
Ro2 Art
Talley Dunn Gallery
Valley House Gallery & Sculpture Garden
William Campbell Contemporary Art
The Dallas Art Fair will also partner with Dallas Arts Week, which includes an exhibition by Irving Penn at the DMA, Karl Holmqvist at the Power Station, and shows by Dan Colen, Helmut Lang, and Paola Pivi at the Dallas Contemporary. The Goss-Michael Foundation will also be celebrating their move to Dallas' Design District with an exhibition by Paula Crown.
To see our recaps of last year's fair, go here and here. Click here to see a full list of Dallas Art Fair exhibitors.
*Since this post was originally published, it has changed to reflect the more up-to-date gallery count on DAF's roster.