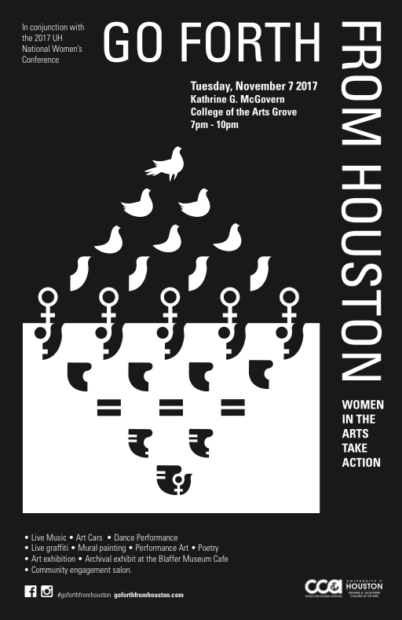 This week, the University of Houston is celebrating the 40th anniversary of the National Women's Conference with a selection of panels, talks, and educational sessions discussing the challenges women face and how far women's issues have come since 1977. This year's gathering hopes to harken back to the spirit of the initial conference, which was the first (and only) federally funded National Women's Conference in US history, and drew more than 30,000 attendees.
In addition to the events happening today (November 6) and tomorrow across the UH campus, there is a special selection of programs highlighting the careers and legacies of women artists living and working in Houston. The programming includes a live demonstration of graffiti painting by five female muralists, a performance by the legendary Houston female-fronted punk band Mydolls, and gallery shows curated by and featuring women artists. See a full list of happenings below — all events are free and open to the public.
All of the following events take place on November 7, 2017:
10AM-5PM: Go Forth From Houston archival exhibition on view in the Blaffer Art Museum Cafe.
10AM-5PM: Exhibition featuring works by Thedra Cullar-Ledford, Anna Mayer, Caroline Ryan, Alexis Pye, and Elizabeth Gates on view in the UH Art Building's Thirdspace Gallery.
12PM-10PM: Live demonstration by Houston graffiti artists.
2PM: Guided tour of the UH public art collection's women artists.
7PM-10PM: A display of art cars created by women will be on view in the Grove.
8:30PM: Performance by Mydolls in the Grove on the UH campus. Thedra Cullar-Ledford will also premiere a new live performance.