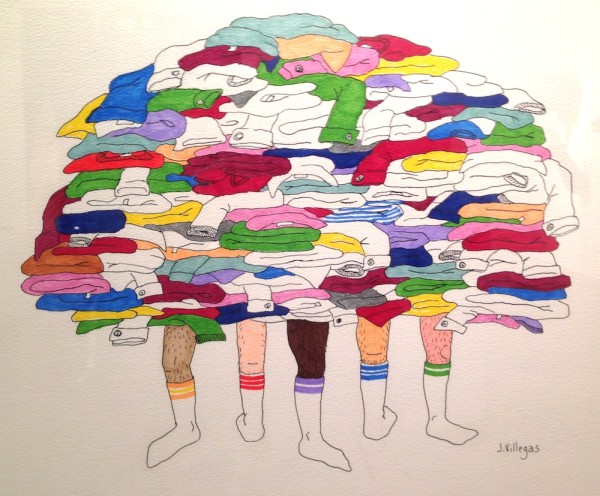 Jason Villegas is back in Houston, with his formal sensitivity intact. In 2008, his works were included in the important touring exhibition Phantom Sightings: Art After the Chicano Movement organized by the Los Angeles County Museum of Art. Gallery shows followed; he moved to New York and he looked poised to go somewhere over the artworld rainbow, like other talented Texans, never to be seen here again.
I wrote about his show Absolute Destiny Apocalypse at Deborah Colton Gallery in 2005. What was impressive then was his craft sensibility, and it has only grown more acute. Back then, he was making low-tech stuffed animals out of felt, tape and wood, then using them as characters on an apocalyptic TV show. The sweet-and-sour tingle of cute toys and horrific situations is usually just student-grade hijinks, but Villegas owned it.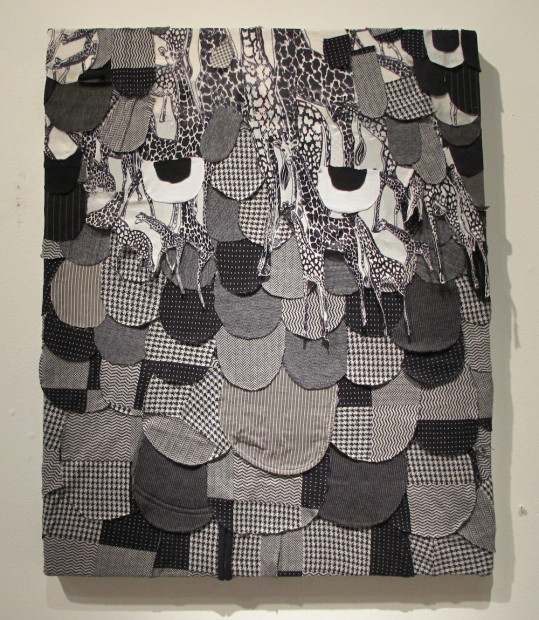 He still owns it. Rather than express insecurity and self-loathing through dirt and debris, or directly through self-torture (although his 2008, Impish Animal, at Okay Mountain in Austin included a very disturbing video of Villegas with a plastic Target bag over his head),  Villegas chooses to accept immersion in debased commercialism, and the tingly delectation of the unworthy. A shrine to the cruelly self-customized Michael Jackson, totemic ultra-kitsch dream catchers, banner-like "paintings" made from overlapping scales of castoff clothing. Villegas stitches together a protective cocoon of Japanese animation, video games, Hello Kitty, and fashion logos, much like a wall of stuffed animals guarding a child's bed. Lacoste, LeTigre and Louis Vuitton are his imaginary friends in the Hundred Acre Wood.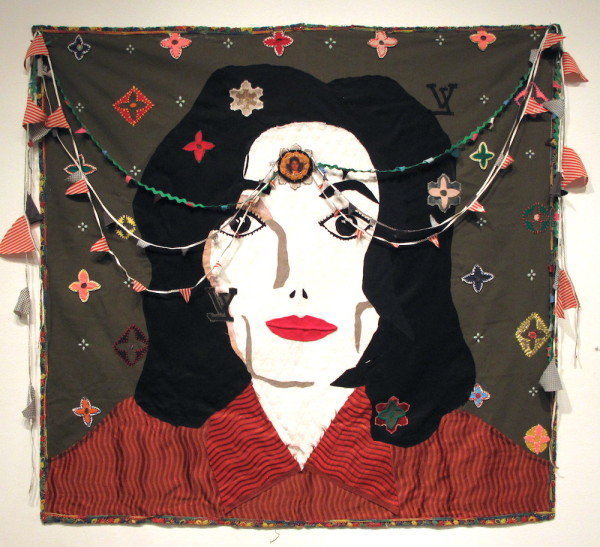 Unlike Trenton Doyle Hancock, or A. A. Milne, Villegas doesn't elaborate stories from his personal mythology for us. As this show's title suggests, we're offered inventive snippets of his personal stylistic idiom applied to fabric collage, sculpture, and drawing. Most of the pieces are new, mixed with odds and ends from the prolific artist's backlog.
Villegas' most recent show, The Good, the Bad, and the Ugly, only a couple months ago at Peveto gallery in Houston, was the equivalent of a bachelor party; erotic drawings of chubby, undressed men dangling from the ceiling forming a sexual retrospective. His craftier creations are regulars at Teresa O'Connor's Hello Lucky in Houston. Now, let's all close our eyes, click our heels together three times, and wish 'specially hard for a coherent major show.
Salon Style, with work by  Jason Villegas and Dutch artist Michael Tedja will be on view through March 15 at Zoya Tommy Contemporary gallery in Houston.