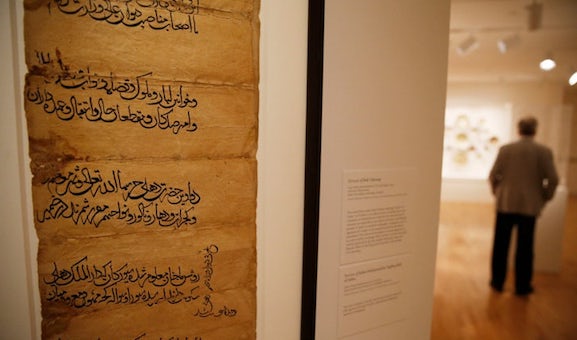 The Dallas Museum of Art has announced its upcoming Islamic Art Festival, subtitled The Language of Exchange, happening November 16-18. It's a "three-day celebration exploring Islamic art and culture and the influence it has had across cultures… . It will celebrate the Museum's presentation of the Keir Collection of Islamic Art… which includes 13 centuries of Islamic cultural production — from rock crystal to metalwork, ceramics, textiles, carpets and works on paper."
The programming for the festival is partnered by other organizations: the Islamic Art Revival Series, Texas Muslim Women's Foundation, the Aga Khan Council for the Central United States, and the World Affairs Council of Dallas/Fort Worth. Programming for the festival includes live music by the group American Bedouin, a talk by Dr. Sheila R. Canby, curator of the Department of Islamic Art at the Metropolitan Museum of Art, as well as special programming for November's Late Night on Friday, November 17, which is free. That includes (via the DMA):
Author Thomas Madden discussing his latest book, Istanbul: City of Majesty at the Crossroads of the World, a city where many objects from the Keir Collection were created;
Artist Ambreen Butt talking about the tradition of miniature painting
The Nomad Dancers performing folkloric dances inspired by traditions of India, Persia, Central Asia, Middle East and Turkey.
On that evening, the DMA is making the Founder's Room available for prayer.
"The festival culminates on Saturday, November 18, with talks from art historians including the DMA's Dr. Anne Bromberg and Dr. Sabiha Al Khemir, a musical performance by the Ismaili Muslim Youth Choir of Dallas and a dance performance by the Jubilee Performance Group, Arabic calligraphy demonstrations, and more."
Again, the festival takes place at the DMA from Nov. 16-18, with a member kick-off event on Nov. 15. For more info, please go here.