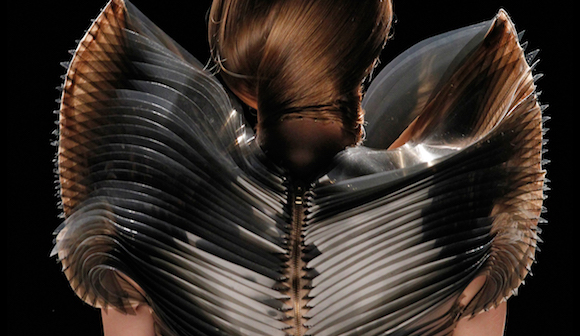 Two weeks ago the Dallas Museum of Art hosted a Guinness Record costume contest for the most people dressed like Frida Kahlo. It was a bit controversial, but popular, too. It's been planned for a while, but now the DMA, in conjunction with its current show Iris van Herpen: Transforming Fashion, is hosting another costume contest this Friday, July 21, and this one is all about Lady Gaga, who wears Iris van Herpen designs.
This is part of this Friday's DMA Late Night. Here are some deets: "Contestants must sign up at the table in the DMA Concourse between 6:00 and 6:45 p.m. Participants must purchase a Late Night ticket (DMA Members receive free admission), and sign-ups will be limited to the first 50 people. The costume contest will take place at 7:00 p.m. in the Atrium." This entire installment of the DMA's Late Night is what the museum is calling a fashion-forward evening, with "a Late Night Talk with Lisa Small, Brooklyn Museum curator, on the history of fashion, [and] a performance by Lady Gaga tribute artist Athena Reich."
There will be a winner of the costume contest, a $100 gift certificate to the DMA shop, and copy if the van Herpen show catalogue. Also: "The Top 5 as voted by our judges will be entered into a people's choice contest on the DMA's Instagram page (@DallasMuseumArt); voting will go live on Monday, July 24."
For more info and the evening's full schedule, please go here and here.