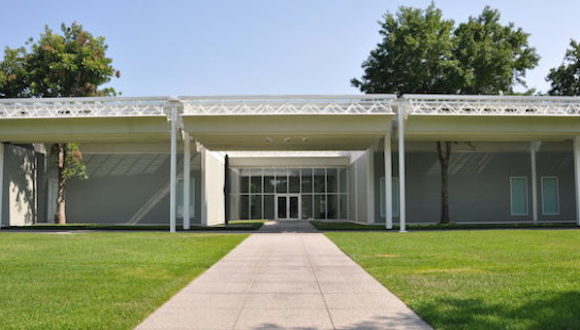 Earlier this summer, Houston's Menil Collection announced that on Monday, February 26, 2018 the institution plans to close its main building for eight months for maintenance work that includes the sanding, staining and sealing of its floors, and an update of its fire detection sensors. The Menil claims that its floors need to be treated all at once:
Because the pattern of the floor in the main foyer and corridor stretches the full length of the building, the entire floor must be refurbished at one time. After thirty years of constant use, the floor will be restored to the appearance it had when the building opened.
The green spaces and the other buildings on the Menil's campus, including the Cy Twombly Gallery, the Byzantine Fresco Chapel, the Dan Flavin Installation at Richmond Hall, and the Menil Bookstore will go on as normal. Also, the institution's library and archives will, as per usual, be open by appointment.
The Menil also announced the two exhibitions that will close out the main campus building. Opening on August 11, 2017 is Thirty Works for Thirty Years, a show featuring thirty specially-chosen works to "tell a unique story about the museum's history by constructing a narrative that walks visitors through the past thirty years," and opening on October 13, 2017 is Mona Hatoum: Terra Infirma. To celebrate the re-opening of the building in fall 2018, Menil Director Rebecca Rabinow said that there will be a large-scale show of the Menil's permanent collection that will include never-before-seen works.
In a different release last week, the Menil Collection announced that the opening of the new Menil Drawing Institute, which was originally slated for October 7, 2017, will be pushed back. At the time of publication, the institution does not have a projected opening date for the building, as part of the challenge is now dealing with the logistical considerations of rescheduling its upcoming exhibitions, which include The Condition of Being Here: Drawings by Jasper Johns; Think of Them as Spaces: Brice Marden's Drawings; and Roni Horn: When I Breathe, I Draw. The shows will be resequenced so they can be presented in full.