Our guest on Episode 2 of Glasstire's new podcast series Not A Hobby is Krista Birnbaum, an artist living in Houston. Not a Hobby features interviews with artists who balance a full-time job and an art career.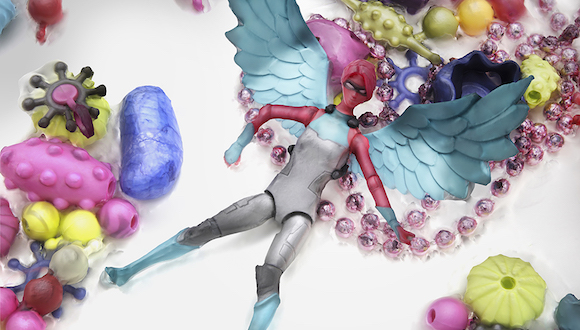 Birnbaum's work ranges from photographic to sculptural. It's very detail oriented, and deals with control over nature. Glasstire's Ariane Roesch met up with her at Houston's Gspot Contemporary Art Space, a gallery run by Wayne Gilbert in the Heights area. Birnbaum's exhibition Courage, which consisted of digitally manipulated images, had just ended and Roesch wanted to catch up with the artist and see the new work.
"I think any artist knows that you don't get done with a show and have an 'ohm' moment where you are at peace. Instead its like: 'Ugh gallery talk tonight—did I sound like an idiot? All these people said they like the work, but did they really like it?!' So it doesn't really equate into a sense of well-being. But to make work is very stimulating. The alternative of not stimulating myself intellectually and emotionally seems very dead, very empty for me."
See more work by Krista Birnbaum on her website.
You can subscribe to our podcast through iTunes or via Soundcloud.