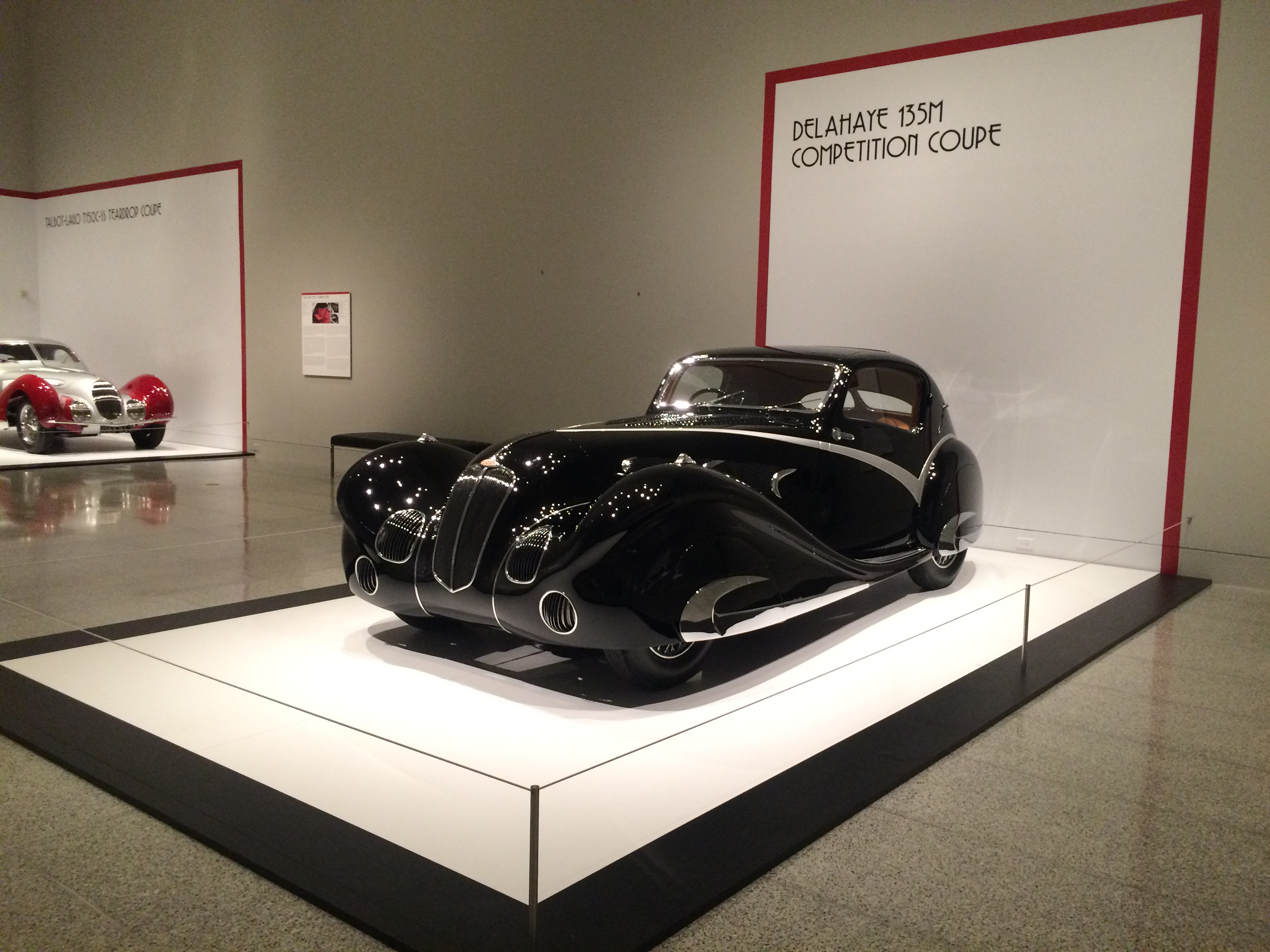 I remember the Art of the Motorcycle show at the Guggenheim in '98. I get it. Motorcycles and cars are an inextricable part of American culture. Many artists have delved into this psychosocial relationship in ways that open a window onto human behavior. When I first saw Easy Rider, and watched the redneck trucker blow Billy, Wyatt and their hand-built choppers off the road with a shotgun, I joined the revolution. J.G. Ballard did great work with these monstrous 20th-century machines in Crash, and when Gibby Haynes calmly told me that "Jesus built my car/It's a love affair/Mainly Jesus and my Hotrod," the preceding five minutes of ear-shattering angst somehow made sense.
But Sculpted in Steel: Art Deco Automobiles and Motorcycles, 1929-1940 at the Museum of Fine Arts Houston is a bullshit car show. It features fourteen early twentieth-century luxury cars, race cars, and three motorcycles. I could be convinced by a car show. I'm a sucker for a good anthropological dig into the charred remains of the twentieth century. This is not that show. Yes, the cars are appealing. Drape a naked woman over one of their big, loping hoods and my heart rate might even go up a little. Yes, there are huge wall texts with illustrations that give us information about the cars' companies, designers etc., but there's little historical meat or psychological depth.
One label did let on that the manufacturer of that particular Brancusi death-dildo started out making "ultility" vehicles during the First World War. I'm going to assume that utility vehicle is code for tanks and armored trucks. The growth and technological innovation of the automobile industry that produced these candy-coated hotrods was spurred on by the technological demands of two world wars.
Wars have been an important engine for economic and technological expansion for thousands of years. These sex toys—which were designed and manufactured in a historical moment when fascism was taking hold all across Europe—are being exhibited while another demagogue with bad hair is poised to become a contender for this country's presidency. Call me picky, but I  think this cries out for some rigorous, critical historical context. I want the J.G. Ballard version of this exhibition.
Obviously the point of this show is not to get into the sexy, frightening, nitty-gritty of the Modern fusion of man and machine. Installed like a car dealership with the vehicles on white displays that mimic photo-shoot paper, Sculpted in Steel is not a museological show. You can't buy the cars (actually, if you're the right kind of chap maybe you can ask at the director's office). But the effect is the same as a high-end trade show where people go to admire the cream of the fetishized technology that is destroying their lives.
This show, like the many sports shows museums put on, is designed to sell tickets. In spite of the fact that some museums have huge endowments, financial speculation and a government that doesn't really give a shit about culture puts museums and private collections with invested endowments under the same pressure as all public cultural institutions. I've been bracing for the press release informing Houstonians that the Menil Collection will begin charging admission ever since that expensive restaurant opened in the parking lot.
Powerful private collectors like Eli Broad, the Rubells and the German guy who built a glass penthouse on top of a concrete Nazi bunker in the middle of Berlin and turned it into an enormous semi-public private art collection, are real threats to the continued survival of public museums. The closing of the Corcoran might well be a canary in the coal mine for museums moving forward. So museums pander. Instead of putting on a kick-ass car show that puts the automobile and all its wild, violent mythology under the microscope, they install a temporary boutique and force you to exit through the gift shop.
But we've all been taught that art is subjective, so in fairness I should say that the three douchebags in 300-dollar jeans with quilted back pockets, who entered the exhibition with me, thoroughly enjoyed Sculpted in Steel. They crouched down and peered over and took lots of pics. As I walked out of the Audrey Jones Beck building I had to laugh as I was greeted by a long line of Mercedes Benzs, BMWs and Audis rolling through valet service six feet from the front door. A luncheon for Sculpted in Steel? The valet didn't know. I walked back to my Civic, which is full of empty plastic water bottles, and then burned an hour's worth of gas driving home.
Through May 30 at Museum of Fine Arts, Houston.