The Museum of Fine Arts, Houston recently announced three significant acquisitions of Medieval art, now on view in the European Art Galleries of the Museum's Audrey Jones Beck Building. They include: a rare Hebrew codex from the 14th century, a Spanish processional cross from circa-1400, and one of a handful of surviving architectural drawings for the Rouen cathedral, attributed to its architect.
"These three remarkable objects, in tandem with our significant and growing holdings of art from Asia and the Islamic worlds, will enhance the Museum's ability to tell the story of pre-modern art and culture across cultures and continents," states MFAH Director Gary Tinterow.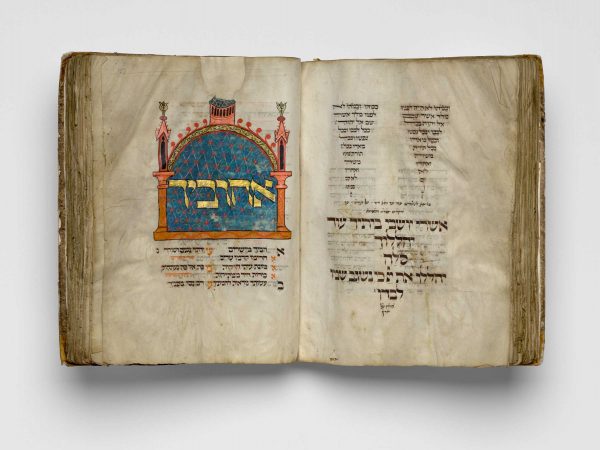 The Montefiore Mainz Mahzor is a medieval Jewish festival prayer book from the Jewish communities of the Rhineland. The codex is 299 pages with pricked red and black ink in Ashkenazic script and is illuminated with hybrid animals, grotesques, and human figures.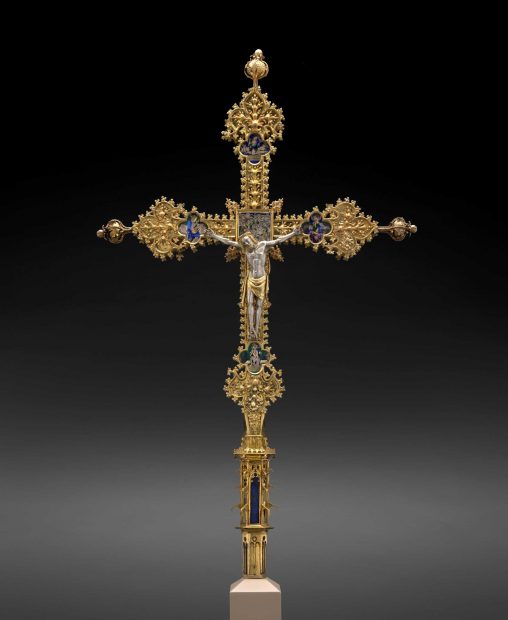 The extremely well-preserved processional cross is an excellent expression of Catalan high Gothic style. The crucified Christ is framed by Mary, John, and the four Evangelists in enamel. The cross is embellished with foliate silver gilt and framed by a crochet-patterned border of painted refoils and fleur de lis.

Roulland le Roux's Design for the Rouen Cathedral Tower is one of only a handful such drawings in the world and is  exceptional for its size, complexity, and state of preservation. The tower was conceived in the "Flamboyant" Gothic style,  the final expression of Gothic architecture as developed in northern France around 1500.
Rainey Knudson wrote about this piece recently for Glasstire:
"At 11 feet tall and not quite two feet wide, the drawing is monumental and imposing from a distance. Close up, it's intricate, fanciful, and utterly charming. Statues of saints face each other, startled and interrupted in the midst of conversation. Gargoyles peer impishly around corners. Stone filigree recedes into sturdy columns, which recede into arches that suggest passageways beyond. It's made on parchment, which gives it a velvety, rumpled surface and lends the edges a pleasing roughness. This is humanity reaching for the heavens, riding on the coattails of some long-dead animal's skin."