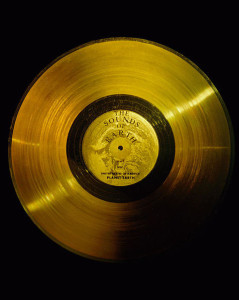 Probably not, but he's on the ground floor of a huge new international initiative to explore how to detect intelligent life elsewhere and exactly what humans would do if we do make contact.
Two days ago, Houston-based artist Robleto joined Russian entrepreneur Yuri Milner and a team of the world's top astronomers and physicists, including Stephen Hawking and Martin Rees, in a press conference in London to announce "unprecedented $100 million global Breakthrough Initiatives to reinvigorate the search for life in the universe" (via  Astrobiology Magazine).
The first initiative, Project Listen, will dramatically increase and accelerate the search for intelligent life in the universe. It is the "most powerful, comprehensive and intensive scientific search ever undertaken for signs of intelligent life beyond Earth." Read the details here.
But where does Robleto come in?
The second, offshoot initiative they announced is called Breakthrough Message, which will "will fund an international competition to generate messages representing humanity and planet Earth, which might one day be sent to other civilizations." Robleto befriended that initiative's leader Ann Druyan, who was the creative director of the the Interstellar Message of NASA Voyager (and the Golden Records which NASA sent into space) and is the widow of Carl Sagan. A Golden Record features the sound of Druyan's heartbeat, and Robleto used some of that recording in his  project "The Boundary of Life is Quietly Crossed" last year at the Menil.
Druyan brought Robleto along for the announcement of this project, as it's the kind of thing Robeleto has been thinking about for years.
For more on this and Robleto's take on it, go here, where the Houston Chronicle's Molly Glentzer has the scoop.