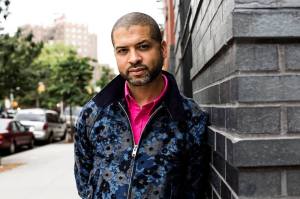 This fall, Houston native Jason Moran began a multi-year residency with Da Camera in partnership with the University of Houston's Cynthia Woods Mitchell Center for the Arts. Besides working with local schools and the Da Camera Young Artists program on year-long projects, the jazz pianist/composer is creating The Rauschenberg Project: Holed Up, a new multimedia performance inspired by Texas-born artist Robert Rauschenberg and his work in the Menil Collection, along with Moran's response to his native city.
It's not the first time Moran worked with, or been inspired by, contemporary art. The MacArthur "genius grant" recipient has created a number of projects for museums and collaborated with many contemporary artists (although he has recently received much attention as the composer of the Selma soundtrack). Among the many influences from his Houston upbringing that Moran cites are his visits to the Menil Collection, where he first discovered the art of Rauschenberg. For this project, he is collaborating with Houston artist Robert Pruitt (of the collective Otabenga Jones & Associates).
On February 5, the Menil Collection will feature a free program of Moran and Pruitt in conversation about the project. On January 31, Project Row Houses' El Dorado Ballroom will present a Listening Party with Moran, co-hosted by Houston artist Tierney Malone (and host of KPFT's Houston Jazz Spotlight). The world premier of The Rauschenberg Project: Holed Up, a ticketed event, will be held at the Cullen Theater, Wortham Theater Center, on February 7.