I remember back when the Art League Houston used to be lame (There were the odd exceptions.) But for the past ten years or so, Houston's oldest arts non-profit has been getting stronger and stronger. The ALH turned 65 this year and it is doing some of its best work yet. The past year saw, among other things, Aaron Parazette's "FLYAWAY" wall mural; Adela Andea's luminous courtyard installation, "Primordial Garden"; and the Robert Pruitt-curated "Stacks," a dynamic series of five artists in five weeks.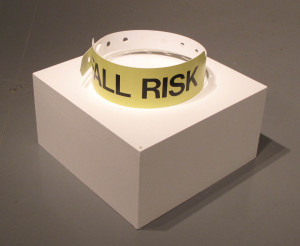 Right now the organization is presenting work by, as well as honoring, some outstanding Texas artists. "Tracing Our Pilgrimage" features the work of Kermit Oliver, the recipient of the ALH's first Lifetime Achievement Award. The organization's Esplanade Project continues to host "Funnel Tunnel," a temporary public sculpture by Patrick Renner installed in the Montrose Boulevard median located in front of the ALH and dedicated in honor of the late Houston artist, Lee Littlefield. The main gallery features "Group Show" presenting the work of Rachel Hecker, the ALH's 2013 Artist of the Year.
Rachel Hecker is one of smartest and most inventive artists in Houston. She usually works in series. Sad and Pissed was a series of paintings chronicling her breakup with her girlfriend using cartoon avatars. Her most recent work is a series of paintings of "guys who look like Jesus." The works she is showing at the Art League are all by her but don't necessarily fit neatly into her other work or series—hence the name Group Show.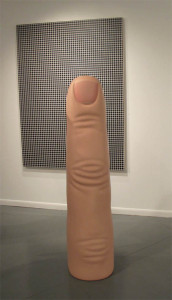 But really, the show is pure Hecker: witty, creative and beautifully crafted. The works are like random snapshots from the artist's mind. There are goofy art jokes like the giant 5 foot 5 inch thumb, Finger Statue (2013), in front of a painting with a navy gingham pattern titled Hermann Grid Variation (2009), a riff on the optical illusion of the Hermann grid. The pad of the thumb has a smiley face painted on it that looks like it was drawn in ballpoint pen. In a similar vein, Hecker places a sparkly snowman sculpture, his "coal" eyes and mouth arranged in a grin of longing, in front of photo on canvas of a snowy pine forest.
A monumental version of a plastic hospital bracelet that reads "FALL RISK" is funny and sad at the same time. Is the bracelet in danger? From one angle it reads "ALL RISK." But the idea of reducing a person's medical state to a handy label is tragic. The original object is likely of personal origin; Hecker spent a number of years caring for her ailing mother.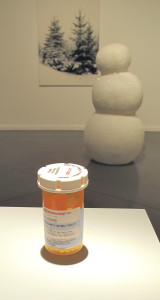 Floating Xanax (2013) is another medically derived sculpture. It's a prescription bottle of Alprazolam (Xanax) with Hecker's name on it. Alprazolam is prescribed for anxiety and panic attacks; the bottle, displayed on a pedestal, spins constantly, like an endless loop of anxious thoughts. (The hovering, spinning bottle is achieved through a magnet and electromagnet.)
Creating its own kind of anxiousness is a collection of paintings of eyeballs with multicolored irises clustered together on a wall—all staring at the viewer. Other works, like the "Not Made in China" sign or the long yellow painting of "caution/cuidado" tape, are vintage Hecker. Ditto the giant pine tree air freshener. They tie into Hecker's series of paintings of post-it notes and scratch paper, making the quotidian and disposable permanent and finely crafted.
Perhaps the work that surprised me the most was Hecker's 2004 work 8 Specimen Boxes. Little bits of oyster shell, miniscule pebbles, peanut pieces and sticks are all carefully arranged in little windowed and cotton-filled specimen boxes. When I saw them, I thought they were really out of character. A lot of artists collect little fragments of things natural or manmade and present them elegantly. It's finding beauty in the cast off and unexpected, but there can also be something annoyingly precious and self-important about it, i.e. "See, only I can find beauty in the world's detritus. Other mortals pass these things by."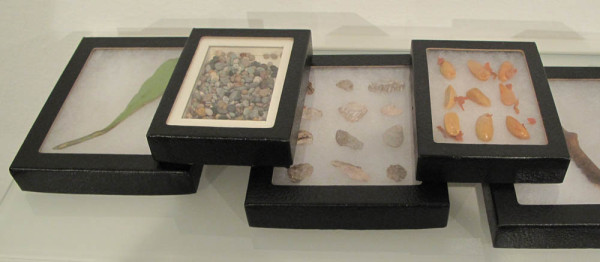 And Hecker's fragments are more overlookable that most. But when I read the works list, and I saw that they were made of polymer clay and acrylic I got the joke. Hecker painstakingly duplicated all these fragments of peanut skin and bits of shell. She probably actually collected the originals and is mocking herself for it.
Rachel Hecker: Group Show will be on view through November 15 at Art League Houston. (Posts on Kermit Oliver and Patrick  Renner at the Art League to follow…)