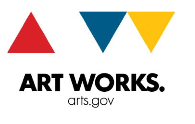 The National Endowment for the Arts has announced it's Art Works Grants, and 31 Texas nonprofits have benefited, to the tune of $788,500, total. Among the many organizations presenting primarily performance and music, many visual arts orgs shared a $382,000 slice of the payola.
Houston and Dallas, of course, scored the most NEA cash:
Big Thought (formerly Young Audiences of Greater Dallas) will get $37,000 to support professional development for teaching artists.
The Nasher Sculpture Center gets $60,000 to support Nasher XChange: 10 Years, 10 Artists, 10 Sites: Bringing Dallas Together, a public art installation. The project, designed to commemorate the center's tenth anniversary, will feature temporary projects at locations throughout Dallas by artists such as Vicki Meek, Rick Lowe, Liz Larner, Alfredo Jaar, Ruben Ochoa, the Good Bad Art Collective, and others.
Houston Arts Alliance gets $55,000 to support the Houston Folklife and Traditional Arts Program, which will identify and present folk arts of the
city.
Spacetaker/Fresh Arts will get $15,000 to support professional development workshops for artists and arts organizations in Texas.
The University of Houston will get $50,000 to support artist projects by the likes of Michael Rakowitz, Mary Ellen Carroll, Theaster Gates, Tom Marioni and others in conjunction with  their exhibition Feast: Radical Hospitality in Contemporary Art.
Rice University gets $25,000 to support Cite, Rice Design Alliance's architecture and design magazine.
Houston's DiverseWorks ArtSpace will get $35,000 to support the DiverseDialogue Series. Artists including BodyCartography Project, Karen Sherman, Wu Tsang, and Heather & Ivan Morrison, will create and present works while in residence.
Followed by a respectable grab by grant-savvy Austin:
Austin's AMOA/Arthouse gets $20,000 to support the Young Artists and Advanced Young Artists studio based arts education programs for high school students. Through weekly studio sessions, professional artists will mentor teens and guide them in the process of art making and portfolio development.
Women & Their Work in Austin will get $20,000 to support the Art Alive Project. Project activities include the completion of an online archive documenting the organization's 35 year history, including more than 3,000 images, biographical information, video footage, and critical writing.
Austin's Fusebox Festival will get $20,000 to present new works.
Elsewhere around the state, UT of the Permian Basin in Odessa will get $15,000 to support Pots 'n' Prints, a mobile ceramic and printmaking workshop for teachers, students, and rural artists, and Blue Star Contemporary Art Center in San Antonio will get $30,000 to support the exhibition Texas Tough. The exhibition will feature works in a variety of media by contemporary Texas women artists.
According to the NEA's website, the grant program "supports the creation of art that meets the highest standards of excellence, public engagement with diverse and excellent art, lifelong learning in the arts, and the strengthening of communities through the arts.
The complete list of NEA Art Works Grants for Spring is here.