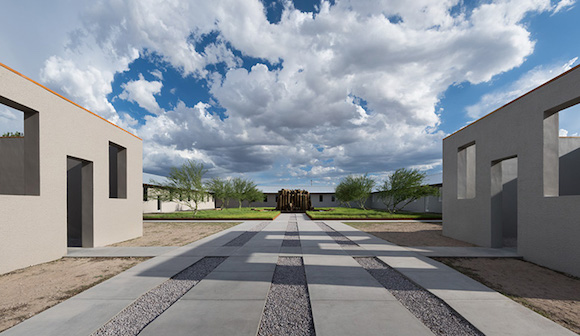 On Sunday, November 5 at the Nasher Sculpture Center, the Dallas Architecture Forum will host a moderated conversation with Jenny Moore of The Chinati Foundation in Marfa and Joseph Thompson of MASS MoCA (Massachusetts Museum of Contemporary Art).
Via DAF: "Both centers have repurposed abandoned spaces to display art in unusual and unique settings. [The speakers] will each overview their organizations, discuss how their expansive sites were repurposed, and discuss highlights of their significant collections."
This event is part of the DAF's Dallas Design Symposium series, and its titled Redefining Space for Art. The Design Symposium "…was founded by The Dallas Architecture Forum to extend the reach of The Forum not only in active education and dialogue on architecture and the built environ­ment, but to examine, educate and amplify informed discussion on how those elements intersect and impact the arenas of design and art."
Again, this event takes place on Sunday, November 5 at the Nasher Sculpture Center from 1:30 to 3:30 pm. Starting Aug. 25, you can purchase tickets here. Until then, go here.