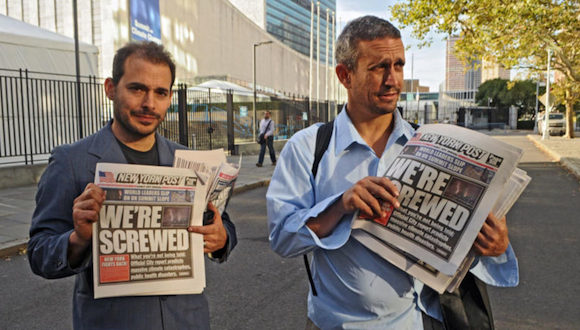 The Cynthia Woods Mitchell Center for the Arts at the University of Houston has announced that their 2017 Mitchell Artist Lecture will feature The Yes Men (Andy Bichlbaum and Mike Bonanno). Known for their performative antics satirizing sociopolitical issues, The Yes Men infiltrate real-world events in a process they call "Identity Correction." Aiming to humiliate and make fun of powerful figures and corporations, the duo travel the world impersonating people from companies and interest groups including Exxon, Dow, the WTO, Halliburton, and many others. One of their more recent projects is Share the Safety, a faux collaboration between the NRA and weapons manufacturer Smith & Wesson that aims to give free guns to America's poor people.
The Yes Men have also done work in Texas — in 2010, Glasstire reviewed their exhibition Keep It Slick: Infiltrating Capitalism with The Yes Men at DiverseWorks. Then, in 2012, pranksters affiliated with the duo infiltrated a gala in Dallas in an attempt to give U.S.Trade Representative and former Dallas Mayor Ron Kirk a fake "Corporate Power Tool Award." Ultimately, the pranksters were uncovered and removed from the event.
The Yes Men's lecture is scheduled for 7PM on September 19, 2017 at the University of Houston. Tickets are free but must be reserved — get them here.