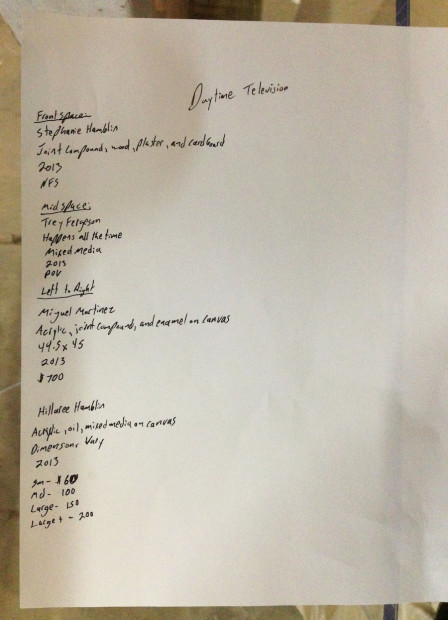 I thought the handwritten price list was a humorous commentary on gallerist Paul Middendorf's expectations for attendance and sales at the grand opening of Gallery HOMELAND!, a warehouse tucked behind a warehouse on Houston's still-scruffy Commerce Street. The charming, ad hoc document (the result of a last-minute ink cartridge snafu) perfectly complemented the improvised space. One wall was a clothesline hung with gray blankets, blocking off the working part of the studio from the exhibition space.
Improvised floodlights on extension cords lit Stephanie Hamblin's mounds of plaster and cardboard just inside the doors. Perched on wobbly stilt-like trestles, like oversized, under-crafted model train mountains, the floodlit lumps and their looming shadows had a silly, clandestine drama.
In the gallery's middle space, Trey Ferguson's Happens All the Time projected faces onto white balloons anchored over an old door studded with rusty nails. Too obviously, they could pop, taking the flickering, faces with them.
Miguel Martinez's three bland, aggressively unimpressive paintings raised basic, existential questions: What's this doing here? What am I looking at? A few months ago, Martinez displayed lozenge-shaped reliefs like custom auto upholstery at the University of Houston's open studios event. These new rectangular works on canvas have the format and methodology of traditional painting, making their failure to fulfill traditional expectations of dynamism, storytelling, or even decoration more evident, and more unsettling.
The blithesome titles reinforce the paintings' fey unconcern: Because I'm a Girl after All, and the "Now" is What I Treasure, and I'm Walking Into Spiderwebs So Leave a Message and I'll Call You Back, were both painted this year. Each is a pastel panel framed with impasto paint like slightly untidy cake icing or a ruffled bedspread, and filled with a slack lattice of crisscrossing diagonal lines, emphatically empty, like birthday cakes waiting for inscriptions, or a lazy TV test pattern.
Art schools are full of no-painting paintings these days, and Daytime Television is curated specifically around the idea of young artists in limbo, but Martinez's works stand out for their frightening, frippy nihilism among similarly "empty" works in the same space. Hillaree Hamblin's grid of small paintings are cute swatches of intentionally "bad" art, drawing on a repertoire of crafty shticks like dripping, blotting and scraping, but they succeed too well as decoration. Interesting, varied surfaces and a balanced, informal hanging with just the right touch of chaos belie the artist's unwillingness to appear gauche.
Ana Villagomez's video piece, Yes Signal, IS a test pattern, displayed on a small flat-screen monitor; three little musical notes on-screen suggest a soundtrack, but the attached headphones deliver disappointing silence. Similarly, in I Want to Make Things Clear, the handset of a transparent wall telephone hangs by its cord near the floor. A small photograph of opened hands inserted in the wall-mounted base cements the pun—it's a dropped call. The urge to pick it up is irresistible, but the dead silence on the line is an anticlimax. The pieces, puns aside, are about the desire and the failure to communicate, but dropped calls and malfunctioning soundtracks are too commonplace; even in a gallery space, little glitches like the ones Villagomez sets up don't make us reflect; just shrug and move on.
For his grand opening show, Middendorf invited artist (and Glasstire contributor!) Debra Barrera to curate. Choosing artists still in school, Barrera likens their experience to "television before the watershed, and therefore subject to censorship," in the form of constant critiques from teachers and peers. Daytime Television is a chance for them to try stepping out. Middendorf, in black tie, was firing up a celebratory barbecue in the gravel court between his building and the former Commerce Street Artist Warehouse, the site of many a cookout by undergrads tasting the delicious freedom of working outside school, and clustering together to express their uncertainties through art.
Daytime Television is on view at Gallery HOMELAND! by appointment through May 26.
Contact Paul Middendorf at 503-819-9656 or email [email protected]