In remembrance of Debra Barrera's sports car.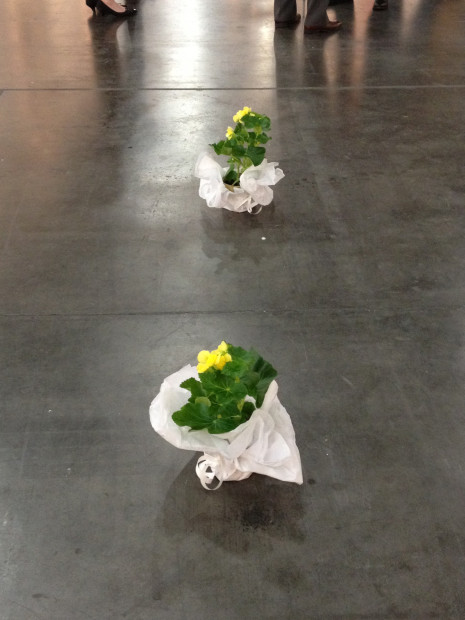 One of the worst and best things to happen at this year's Texas Contemporary Art Fair was a car crash. As Glasstire's Paula Newton reported, artist Debra Barrera's installation Sports Car on Earth, in Space was accidentally tipped over and fatally damaged. The piece was gloriously present at the fair's opening festivities Thursday evening. By the following afternoon, it was gone–replaced by an empty space (an unusual sight for the fair) with simple flowers and an altered label reading, "Everything goes away all the time, but right now, we're right here." Those not in attendance before early afternoon Friday to see the original piece may have found this a little vague, or, more likely, overlooked it entirely. But for those that came opening night and then returned to the fair later to see the work uncluttered by the schmoozing masses, this was a powerful change.
The installation mounted the front and back ends of a red 1986 Pontiac Firebird with functioning flip headlights and turn signals timed to simulate an actual drive that Barrera and her partner Jonathan Hopson made between the holding shed of the Saturn V rocket and the Challenger Memorial Park, where Barrera launched a small rocket (her own little action of participation in the legacy of space flight.) She documented the rocket disappearing into the blue sky; it was never seen coming back down to Earth. Their trek and the resulting piece were explorations of our ambitions and attempts to go—to travel far and fast—and a celebration of the vehicles through which we achieve speed and distance. It was also as much about ends and failures in the process, and about negotiating memory, history, and absence. Barrera's awesome red Firebird—the hottest personal vehicle in 1986—donned a special Challenger license plate, reflecting the hope and excitement for space flight in that era as well as commemorating the grandest vehicular disaster of our times that same year.

The piece shown at the fair was a reconfiguration of Barrera's previous installation, then titled Drive Me There And Back Again, that was shown last fall at the Blaffer Art Museum's storefront exhibition space in downtown Houston. There, the car was displayed in two side-by-side pieces (simultaneously coming and going) in red window boxes. On that active downtown street, the lights and sounds of other cars created an interesting interaction and activation between past and present. For its recent exhibition in the fair's central space, the artist recreated it as a stand-alone sculpture, putting the car back in its original orientation and height and creating an empty red area in the middle of the pieces for viewers to enter and stand or pass through.

While many visitors new to the piece were really taken by it, I will admit that my strong reaction had something to do with a personal connection to the piece. I had loved seeing the piece last fall, and in fact I had some conversation about it and even tangential collaboration with the artist before the premiere of its first incarnation (I contributed some songs for Barrera's accompanying music "mix tape" at its first installation). Seeing it again after some time, and configured differently in a different context, was really interesting. This version beckoned viewers to come close and interact, and it emphasized the deleted middle of the car as much as the ends. It was really three parts instead of two this time. The venue change from street windows to a lit exhibition hall was a big shift, too. There, amidst other artworks instead of other cars, the piece became less of an active, kinetic spectacle and more about reflection and consideration. The tweaks of its title, set-up, and environment made it much more than a simple revisit for me, and also reminded me of Barrera's great tendency to shift and evolve with her work.
Few witnessed the event of its falling early Friday afternoon. Of course, the artist's reaction to this was complicated, and her experience was confusing, stressful, and likely pretty devastating. She received calls and texts that seemed like urgent reports of an actual car accident or the injury or death of a loved one. After a long relationship with and emotional investment in this work, it can't have been too dissimilar. She was first concerned that someone might have been hurt in the accident—thankfully, no one was. Then she was concerned about the piece—it didn't fare as well. It was done—not only for the run of the fair, but for good. She remarked to a friend that she couldn't just let it die without saying something, and immediately realized that this passing was bigger than a damaged artwork or her presence at a fair. She thought of her father, who died when she was 14, and her regrets that she'd not gone to put flowers on his grave. She decided to remove the piece altogether and to place flowers in its spot.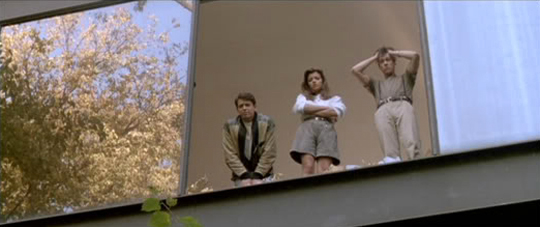 I know that I was a little more informed and connected to the piece than the average fair visitor, but turning the corner to realize the absence of that strong installation, and then approaching to find in the large, empty area of reflective concrete simple flowers and a handwritten adaptation to the title signaling the acceptance of time and change nearly brought me to tears. Not only for a fellow artist's loss, but for the completion of my journey with it. The piece was about travel—through time and space. It was a journey and an action and a commemoration. And while it always seemed a loving celebration, it hinged on reflections of the disastrous failure of the Challenger Space Shuttle—a moment that profoundly affected a generation and stifled manned space flight for a long time. How fitting that gravity brought the Firebird down. That the final action of the piece was a nosedive into concrete. How interesting that this happened in the most central, public viewing space possible, yet was largely unseen and unrecorded. And how beautiful that the final act of the artist was to acknowledge it—not cleverly or strategically, but just simply and sincerely. The artwork and her own personal journey are naturally and deeply intertwined, and the experience includes all of us as well.
Vehicles and vessels have long been recurring motifs in Barrera's work—coming from her lifelong love of cars as functional sculptural objects; her interest in the culture, spirit, and symbols associated with transport; and her desire to travel to different times and places through the imagined worlds of her art. But in the past year, she's started to make the small yet important distinction between "travel" and "exploration"—the latter involving more fear and unknown factors. She's finding the area where hope and fear meet and mix, and exploring that—no less lovingly, but perhaps more maturely. The journey and end of this Firebird piece has likely become a marker punctuating a gradual transition in her creative work.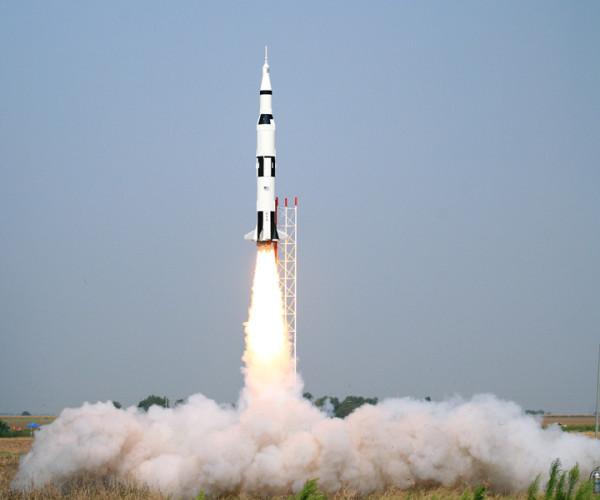 Of course, I don't champion the death of this work. But I do appreciate that the installation became an important occurrence at the fair that made me and others consider art and life and the human spirit and finite existence. I appreciate my own journey with the piece, and that its most powerful incarnation was, finally, its absence.
I dedicate the following song from 1986 to the memory of a cool car and a good ride, and a little rocket that will never come down.
http://youtu.be/bnSPrPpvA4k