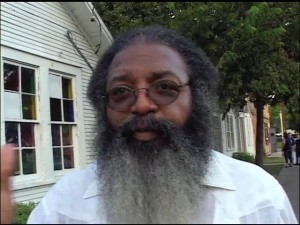 Houston artist Bert Long has died. A Houston native, Long gave up a career as a chef for art in 1979, eventually becoming one of the city's best known and best-loved icons. Huge and hairy, Long's presence in person matched his stature in the artworld.
Self-taught, Long's determination and gall carried him forward. His first art show, at the MGM Grand Hotel in Las Vegas, where he was executive sous chef, was arranged to enhance his culinary glamour; but Long had found a new calling. Struggling to make art and feed his family, Long continued working in restaurants in Chicago and Houston for several years before finally devoting himself entirely to his art in 1979.
Showing around Houston wherever he could, Long attracted the attention of Jim Harithas, director of the Contemporary Arts Museum, Houston, and artists John Alexander, Salvatore Scarpitta and James Surls as the city was first defining itself as an art center. Long was included in the MFAH's seminal 1985 exhibition of Houston art, "Fresh Paint," winning a National Endowment for the Arts Grant in 1987, and then the presitigious Prix de Rome in 1990, cementing his unusual status as a bridge between outsider and academically trained artists.
The 90's saw Long living and working extensively outside Texas, maintaining studios in Rome, Italy and Berzocana, Spain, with occasional visits home to Houston. Long moved back to Houston's Fifth Ward in 1999, taking part in Project Rowhouses' movement to use art to revitalize his old neighborhood, where he lived with his second wife, painter Joan Batson, in a pair of reconfigured shotgun houses. There, with Joan at his side, he died peacefully this morning.
In the wrap-up to Kelly Klaasmeyer's 2006 Houston Press article on Long, from which most of my biographical details have been cribbed, Long reflects on his career: "I don't want to forget where I came from. I don't want to forget picking cotton as a child… and I don't want to forget sleeping in a trailer with ice crystals on the windows and being separated from my family." But he adds, "I do know this, I've been truthful to what I do." And in a wry nod to Frank Sinatra, the former Vegas chef says, "At least I can honestly say, 'I did it my way.'"
A special screening of "Bert," a new documentary exploring the life and art of  Bert Long, Jr., will be presented by the Menil Collection, Houston Museum of African American Culture, and Houston Cinema Arts Society Thursday, February 14th, 7:00 p.m. at the Menil Collection.
More on Bert Long:
Thimbles by Garry Reece
Glasshouses 10: Bert Long by Everett Taasevigen