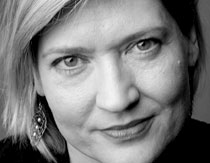 Kelly Klaasmeyer, editor of Glasstire for the past five years, has announced that she will be stepping down to pursue her own writing projects in early February. Klaasmeyer has overseen a period of rapid growth for Glasstire, with readership nearly tripling during her tenure as the scrappy Texas visual arts website has evolved into an award-winning paragon of new arts journalism, winning first prize in the 2009 National Summit on Arts Journalism, presented by the USC-Annenberg School for Communication & Journalism and the National Arts Journalism Program. During her tenure at Glasstire, Klaasmeyer was herself the recipient of both a fellowship at the 2009 USC Annenberg/Getty Arts Journalism Program and a 2009 Creative Capital/Warhol Foundation Arts Writers Grant.
Glasstire Founder, Rainey Knudson, announced the changeover to the org's board members Sunday evening: "So much of our success is due to Kelly, and to say she will be missed is an understatement; but we support her desire to work on personal projects, focus more on her own writing, and step away from the demanding job of rallying the Glasstire contributors. Kelly is stepping down from Glasstire's editorship, but she will continue to be a vital presence in the Houston art scene, and we hope to publish her writing many times in the future on Glasstire!"
Kelly's last day as editor will be February 8. Bill Davenport, Glasstire's longtime News and Events editor, will serve as interim editor during a national search for her replacement.