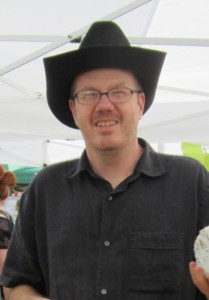 After a month-long search, Bill Davenport has been named Texas Editor at Glasstire.com. Davenport has been serving as interim editor since the departure of award-winning former editor Kelly Klaasmeyer to pursue other projects in February.
Glasstire's first contributor, Davenport has been writing about Texas art since he arrived in Houston as a CORE Fellow in 1990, contributing articles and reviews to Artlies, Artpapers, The Public News, and the Houston Chronicle and publishing the notorious Houston Artletter from 1995-1997. Since 2007, Davenport has been writing Glasstire's daily Newswire column, and since 2011, managing Texas-wide events listings for the site.
"12 years ago, Bill was our first contributor, writing a weekly column he called Tire Iron. I am thrilled he is taking the editorial reins and look forward to this new phase at Glasstire," said founder and director Rainey Knudson.
"I'm honored and humbled to take on this new responsibilty, and I look forward to making Glasstire a must-read for everyone interested in contemporary art in Texas," said Davenport, adding, "this is going to be fun."