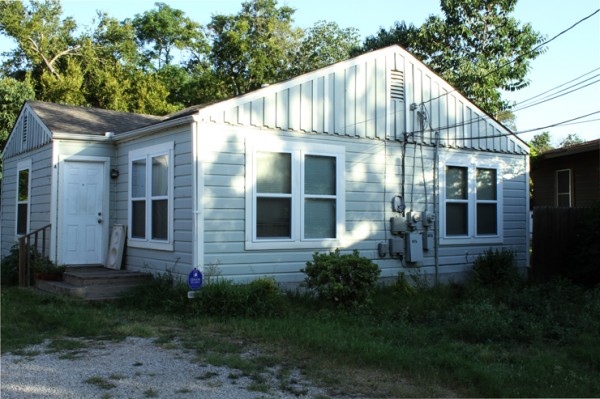 With the changing of the seasons comes too the changing of the art climate. In the past year in Austin we've seen a flourishing of house and apartment galleries from Tiny Park to Red Space to Forus. Perhaps these spaces are filling gaps other institutions in Austin are missing, or maybe it just shows that we live in an enterprising arts community. A spare room, a living room, a backyard–the potential for exhibitions is everywhere and all over.
There's a new space in town, Eleven Seventeen Garland, run by artist Joshua Saunders which promises to offer immersive installations as well as a good house party (I was out of town for the recent opening but heard it went late, was crowded, and there was dancing). The first exhibition, Neon Brown, features the work of local artists Michelle Devereux, Andy Rihn, and Max Juren.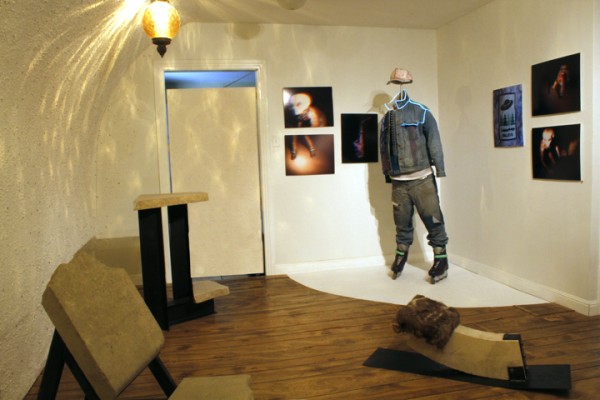 The specificity of the installation–the curved wall encrusted with shiny stones, the fake wood floor–makes the works read like a narrative. The pieces are arranged more like artifacts than art objects, as if there were some kind of lost history or covered up conspiracy attached to the blurry alien photos and stone furniture and neon paintings of figures riding pizzas. Each work, though radically different, seems to inform one another in this cohesive group exhibition.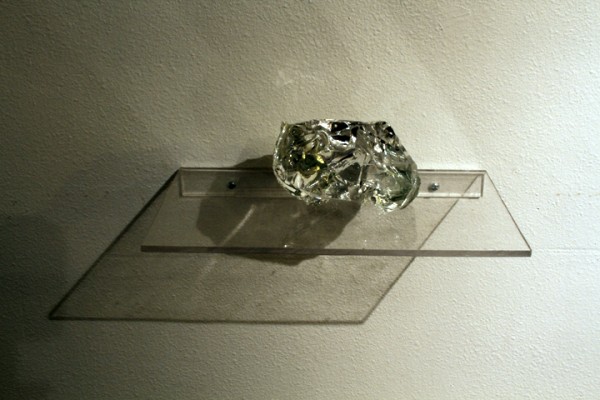 The space doesn't look like some living room on the East side. Instead the installation reminds me of the "myths" perpetuated by the displays at the Roswell Museum or the Ripley's Believe it or Not! Museum. Max Juren exhibits photos and objects from his ongoing project, Blade Roller, an alien action film that in Juren's cunning style uses the Austin landscape as its backdrop. It would seem easy to dismiss Juren's work as silly or kind of stupid, but it's done so well and with such a sharp sense of humor that I always find myself completely won over. I mean, it's really fun and loose and smart. None of the work in the show takes itself too seriously which is part of its success.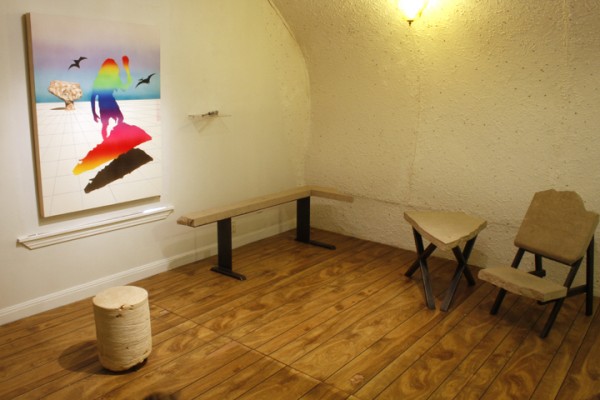 Michelle Devereux displays a painting of a rainbowed caveman (queer early man?) using a slice of pizza as a hover board, gliding in an empty landscape, wielding his iconic club. This work fits nicely with Andy Rihn's furniture which is also linked to ancient humans in its roughly cut stone, its simplicity and functionality (the seating is surprisingly comfortable). The mixture of all these elements–the carefully reconstructed space, the objects that recall ambiguous past or future civilizations, and the striking sense of play and humor–makes me feel real excited for art in Austin this season. I'll see you out there.