Colorado is where a lot of Texans are (or wish they were) during the summer. It's a heavenly cool yet rugged place. I too followed the terrible wildfires and the Aurora movie theatre shooting. Like Texas (like everywhere unfortunately), Colorado isn't immune from natural and moral evils. But Colorado is robust and smart. The towns I visited showed evidence of creatively active, environmentally respectful communities while still getting a lot of work done (I didn't see anyone hugging a tree, for example.) Seeing Aurora-based Olympian Missy Franklin swim to a handful of Gold medals was also a strong positive for a state that's had a rough start this summer.
I ventured up to attend the second annual studio exhibition hosted by James Surls, who himself migrated from the thicket of East Texas to the high-altitude of Carbondale, Colorado. I probably don't have to explain much about Surls to Glasstire readers, but just in case, here's an article explaining the significance of what he's doing. In short, instead of delegating his work to galleries all over, Surls is bringing his friends and patrons to him in a breathtaking summit-like setting. This year, the event expanded to include a tour of his working studio with works new and old on display. The showroom felt like a woody thicket, as his pieces were crammed from floor to ceiling. But it was no doubt impressive. The scale and frequency of Surls's output is both daunting and inspiring.
As we headed up the newly landscaped trail from his studio to his home and exhibition space, we looked over the pristine meadows below to see grazing horses and an intense rainbow that had just formed in the distance. A new tangle of bronze and steel sat near the top (above).  In the exhibition space, newly finished pieces hung quietly and with room to breathe, the exact opposite of the tightly packed studio (below).
When it was time for dinner, the Art Guys appeared as table-top heads on grape-garnished platters in the buffet line.  (The Art Guys dedicated the plant they married recently with Surls in attendance.) They lightly contrasted the über-cosmic Surls setting, poked fun at themselves as consumable offerings, and reminded me that all this art business couldn't exist without a buffet line, or more importantly, a bar. (I didn't really steal a grape.)
One newly made acquaintance showed me a video of a 500 lb. bear snooping around on his back porch, near our hotel. It's unfortunate that something so cute and clumsy could mercilessly kill you.  (Have you seen the people helping some bear cubs get out of a dumpster? Why do we do it? So cute. I'm on vacation.) The Flatlanders closed the evening while the expanse of mountains darkened behind them. They were great live. It was a hearty Lone Star/Rocky Mountain stew. The music, the sculpture, the setting — made for one of those art events that are hard to forget.
The next day before returning to Surls's studio for a gallery talk, we visited the Carbondale Mountain Fair, an outdoor festival with artist booths, live music and family fun (we've talked about this kind of thing before). The notable thing here was that the Fair doesn't sell bottled water (providing a hose where you could fill up your own container) and boasts that 90% of its waste is recycled/composted into valley soil. Pretty remarkable.
After the fair we returned to James Surls's studio where he spoke about his latest work.  Surls is not dense with art speak. His wisdom comes from a lifelong, burning curiosity about everything. Hanging and standing in these spaces at the top of Carbondale, his new work is a lucid, inquisitive series circling contemporary understanding of ancient knowledge. Pairing hundred-year old chunks of wood with recently torched and bent metal fashioned into his iconic flowers, eyes, and molecular structures, Surls is constantly waltzing with the masculine and feminine, the micro and macro, the natural and the man-made — paradox, as he so adores.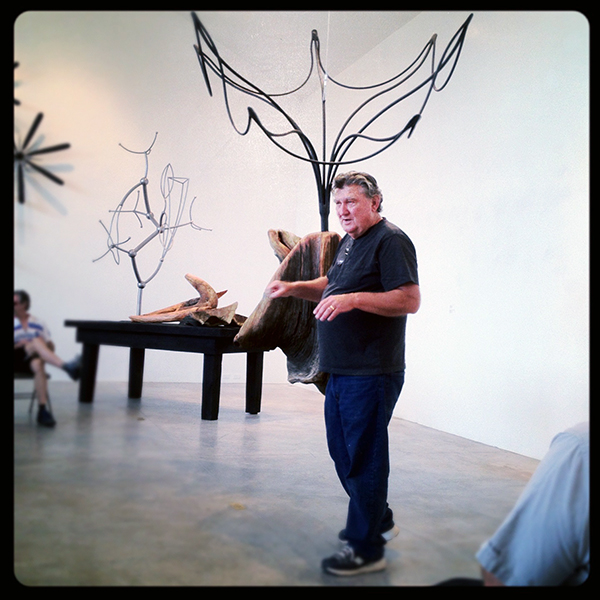 A catalog accompanies the show with densely rich essays by Susie Kalil and Thomas McEvilley, so without getting too deep into the trenches of analysis, I'll just say here that while he may not seem academically art-booked enough for New York, or not ironically culture-jammed enough for L.A., Surls is indeed a genuine force.  It comes from an ongoing experience with the woods, the stars, the places that for so many millennia were our reference points — our canopy of understanding — that makes James Surls's work (and a lot of contemporary art in the Southwest) really sincere. It's from a place where that particular type of understanding can readily be experienced. It's somewhat free of strictly-schooled formalism and/or consumerist clutter. It's mystically curious but experimentally raw. It sort of believes in extraterrestrial life but wouldn't be disappointed if it turned out to be non-existent — there's plenty of other profound stuff going on.
After leaving the mountain top where a single artist's' vision envelops, we headed into Aspen for the tenth annual Aspen Art Festival. Mind you, we are headed also to the Art Aspen opening preview in a few nights, and here again is the contrasting experience between Art Fairs (really, we've talked about this). Contrary to the Carbondale Mountain Fair, Aspen Art Festival is organized by Howard Alan Events, "producer of the Nation's Finest Juried Art Shows and Art and Craft Festivals." Another beautiful setting. Aspen has a Fendi. Just saying.
I only had about 30 minutes to look up and down the booths, so I didn't dive into the work very extensively. But Santiago Michalek  caught my attention. I like his stylized hyperreal portraits of old trucks, tractors and nostalgic car scenes. It seemed like he really loved the subjects he was painting (especially Volkswagon buses). After I looked him up — of course — he used to restore VWs. Why not combine passions? And if you're going to paint Aspen trees, why not put handsomely dilapidated vehicles in them?
I found the Aspen art gallery scene amusing — where some have a focus, say western, traditional or contemporary, two or more of the galleries had a shotgun approach — Just pack the gallery with everything: western art, pop art, totem poles and illustrative portraits, kinetic assemblages, abstract expressionism, etc. I guess the marketing strategy here is less about cultivating a roster of discerning collectors and just being ready for what the hell ever walks in ready to spend money. Or, it was all about diversifying one's collection. Really diversifying.
In part 2, we'll visit Anderson Ranch Arts Center and take a look at the big names descending on Art Aspen. (James Surls being one of them…)