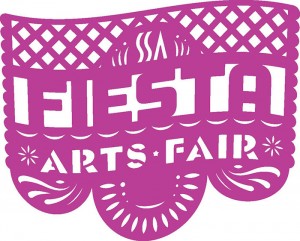 Let's talk about Art Fairs for a second. When I say Art Fair, most Glasstire readers probably think of big-convention center events with gallery-booths representing contemporary artists. Usually the work is expensive, but there are cocktails. However, if I was to mention an art fair to an average family of four, I have a hunch they would think of another kind of art fair— an outdoor event or community festival with artist booths, live demos and music, hot dogs and stuff for kids to do. Much of the work is still pricey, but certainly more accessible. I haven't been to an overwhelming number of either kind. The last gallery fair I attended was Pulse LA last September. It was like doing a death march in Chelsea with all of the galleries even closer together, so it was both enjoyable and less tiring.
Last weekend (4/21/12) I was invited to jury the awards for the Fiesta Arts Fair at the Southwest School of Art in San Antonio. The major difference at this kind of fair is that the artists themselves are manning their booths. Often schlepping their work all over the country, these artists are like traveling bands, setting up their equipment, showing and selling their work, conducting their own transactions, and tearing it all down to speed off to the next event. I can't help but admire artists that hit the pavement to represent themselves and run their own operation. They tend to get marginalized in the gallery scene, and there are probably several arguments as to why or why not.
Even though there are distinct differences between the two kinds of fairs, both sit on the threshold of selling and showing, academic and common contexts, and gallery vs. artist-run platforms. There's always that argument about the line between fine art and craft, and comparing the two types of fairs is a good place to start I imagine. The Southwest School of Art is situated right in the center of this threshold— between its rich historic roots and recent upgrade to an accredited institution (offering a BFA this fall and dropping "Craft" from its official title). SSA has positioned itself to become an independent player at the crossroads of contemporary and traditional— adding academic depth to an already accessible, community-driven venue for art appreciation and education.
Dropping "Craft" from the name of the school certainly says something about the school's evolving identity (it began as Southwest Craft Center in 1965.) I think there are more implications here that come from the disconnect between "art" and "craft." Not all would think "craft" is a bad word, but it has connotations that are apparently strong enough for SSA to drop it. Particularly in SSA's case, I think it's a major statement about the term. It should spark much discussion (I'm thinking of HCCC and Glassell here).
Putting the bird's eye view of fairs and festivals aside, the artists on display at the Fiesta Arts Fair all displayed strong and personable characteristics in their work. The Fair gives awards for Contemporary and Traditional Design, Craftsmanship, Creative Expression, and of course the Best of Show prize. I have to emphasize that as an artist, playing the role of juror is challenging. No matter how much art one has seen, selecting winners is always a mixed bag of taste, context, and no matter how educated— subjective. But several artists stood out from the group, advancing the positive qualities of being on the threshold that SSA itself sits.
Two examples of Contemporary Design and thought were Rone Prinz (Woodland Hills, CA) and Jaime Jo Fisher (Austin, TX). Where Prinz honed in on perfected motifs and refined use of metal on a delicately small scale (with an irresistible steam-punk style), Fisher presented a fresh set of jewelry made up of assembled discarded fragments (like part of a Cabbage Patch doll's shoe, a fossilized termite and polymer clay). She ends up with a variety of colors and textures, reclaiming these found pieces that reflect a restorative eye with uncommon appeal.
Craftsmanship went to Richard Ryan (Bpurbonnais, IL) who combines blown and carved glass into rich compositions resembling organic matter from the ocean floor. Glass is always a strange category—  blown glass, stained glass and warm glass all end up feeling overly-decorated and delicate. Glass collectors probably don't have children, and have lots of empty end tables and big windows to display the transparent qualities of the medium. Ryan's work was fresh, but also looked painfully laborious. Like Austin artist Glenda Kronke (a favorite of mine in the glass field), I stopped thinking about the glass and more about the work.
Traditional Design went to Li Wang (Palm Coast, FL). He had some of the most beautiful, soft and sparkling impressionist paintings of coastal scenery. I tend to see a lot of this imagery (being on the Texas coast) and so often overlook it, but Li Wang's work really demonstrates how this kind of painting can produce a genuine experience, and his classy presentation had me standing in his booth longer than usual.
Creative Expression was probably the hardest prize to single out. I mean, how do you choose one artist in a pool of already juried artists and say one has more creativity than another? Instead of perfecting the technical aspects of a medium, I figured this award would focus on an artist's free-flow that somehow ended up in physical form. I ended up at Laura Maclay's booth (Austin, TX), whose child-like illustrations arranged in surreal juxtapositions had a consistent style, both on fabric and canvas. When asked about how she came up with these, she didn't refer to any specific folklore, instead saying she just sort of improvises (another advantage of speaking to the artists themselves, rather than have a gallerist try to talk up some crazy internal mythology.) Maclay seemed almost surprised to be asked about her ideas rather than her process. I found this to be true with several of the artists, when asked about concept rather than craft, the answers were often unguarded and improvisational, which was refreshing in a world of over-edited artist statements.
The best work in any group exhibition or fair usually has to combine all of the above elements: it is contemporary enough without losing traditional reference, it is imaginatively loose but intently focused, and the attention to detail and refined execution should finish it off. There were a good number of artists at this level. I am especially partial to found objects and assemblage, always curious how artists repurpose material. Lots of mixed media artists populated the show—  all worthy of mention—  but this also made me more critical. Anthony Pack's (Overland Park, KS) work immediately struck me.
His robot figures are a combination of TV-cowboy nostalgia with sci-fi tinkering. He reclaims vintage material purposefully and with restraint, which adds to the complex sense that assemblage can create—  a bit of sadness for a past long gone, but also a remix of timely charm. The entire booth extended this sentiment—   the walls had sketches and notes (some erased and drawn over) along with small wood reliefs of creepy, cartooned vintage yearbook portraits with phrases like "what do I do now?" and "socially acceptable" pasted on from newspaper clippings.
Though these personified robots were the focus of his work, the whole booth was an installation of idiosyncratic detail, raw creativity, refined attention and humorous relevance. Coining his work "Urban Folk Art," Pack uses the terminology akin to "craft" that some may be turned off by, but his work shows how the materials of the past can be impressively remade and re-imagined.
I would never suppose one Art Fair experience is intrinsically "better" than the other. Both have remarkable qualities that appeal to a variety of tastes, and let's not deceive ourselves, both types of fairs are economic generators. The bottom line is that the Southwest School of Art, while expanding its scope and distancing itself from the connotations of craft, is still deeply connected and committed to art as an accessible, enjoyable experience.
________________
John Aäsp is currently Visual Arts Director at Rockport Center for the Arts on the Gulf Coast of Texas, where he also serves as Managing Director of the Rockport Film Festival. He received his MFA from RIT in 2006. Other than writing, making video art and electro-beepy music, John can't stop making excuses for his cats and his love for motorsports.  johnaasp.com, johnaasp.blogspot.com, beachblanketblammo.com