Intro: This year's honoree for Two x Two for AIDS and Art will be Richard Phillips, who is loved by celebrities and name-brand clothing and makes glossy, highly artificial compositions from appropriated sources. He gave an artist talk last week at the Dallas Museum of Art.
1. MAC cosmetics named a line of makeup after him.
2. He turns 50 this year, so fancy fashion magazine V photoshopped him to look younger, on request.
3. You too can own Lindsey Lohan without spending one minute in prison! Phillips' 2×2 painting will be a surreal portrait of Lohan at the exact moment she received her sentence in an L.A. courtroom. A must have.
4. The New York Times wrote this article about how much more awesome he is than you. It was published in the Fashion and Style section.
5. His M.F.A. is from Yale, so all of you critics can suck it.
6. Celebrity, sex, fashion, and advertising are really about politics, economics, and morality.
7. His paintings are prominently featured in "Gossip Girl."(WTF?) He did a cameo.
8. Phillips had to learn how to communicate with Lindsey Lohan by text. She can't handle more than one third of a sentence or she won't respond. She initiated their first contact like this:
"Hi."
Phillips wrote back a long paragraph introducing himself and outlining his plans for their project together. Her response was silence. The mutual friend who had arranged the professional pairing urged her to give Phillips another chance. She tried again:
"Hi."
This time, Phillips texted Lindsay in her own language:
"Hi."
And they made beautiful music together, or at least, this bizarre video:
http://youtu.be/–rs7Ni7nmA
9. Lindsey Lohan was out on bail during the shooting of this great work of art.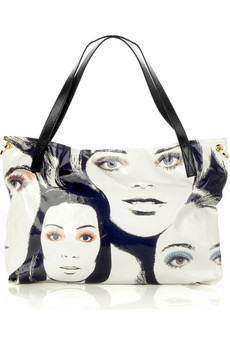 10. His work is in the Whitney, the Museum of Modern Art, Tate Modern, and on countless Jimmy Choo Polly glazed canvas bags (available at net-a-porter.com for only $682.50).
11. Quote from the New York Times article: "I deserve to be bullied." No one deserves to be bullied, Richard.
12. He was a panelist on Bravo's "Work of Art."
13. He has painted an Interview cover of Rob Lowe, a portrait of Jeff Koons's Michael Jackson sculpture, and a 10-year-old's drawing of Tom Cruise. These, he says, are emblematic of  the "notion of the real being represented in media."
14. Phillips also made this pornless video of Sasha Gray:
15. In November, he did an editorial fashion shoot for Elle magazine starring China Chow and Phillips's own Porsche.
16. His work would make awesome profile pics on Facebook.
17. While the Lindsey Lohan video was being shown at the DMA artist talk, I scribbled in my notes, "a commercial," then a few seconds later, Phillips said, "It's a commercial." So we concur.
18. A White Cube show in London depicting the fleeting nature of celebrity – portraits of people who used to be famous, but aren't anymore. (You know the White Cube gallery, owned by Jay Joplin, ex-husband of Sam Taylor-Wood, who divorced him to be with Kick-Ass, but before that made a lot of celebrity-based art starring Robert Downey Jr. and Marianne Faithfull. I should not gossip.)
19.  Phillips had never made any type of film before working with Lindsey.
20. EMI plastered Phillips-designed posters all over London for the band Dirty Vegas. He calls it "the swan song of promotional advertising" by a record company.
Bonus – one more about Lindsey Lohan (because I can't resist). From the NYT article:
"She's interested in art," Mr. Phillips said. "She paints, and I like her work a lot."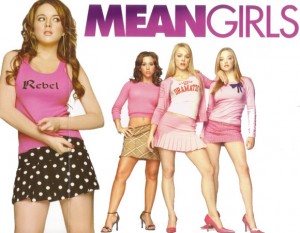 This blog is called Don't Look. Okay Look.
Betsy Lewis is a Dallas writer who really liked Mean Girls.