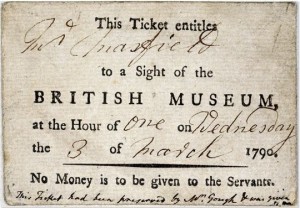 As a follow-up to my article, "Mind Games, Museums, and Suggested Donations," I've been looking into the ways that museums set their general admission prices. Discussions regarding museum admission often carry moral undertones. Recently, editorials have expressed the usual mild outrage at first the Met's and now MoMA's price hikes from $20 to $25. (See, for example, A Balancing Act for Museums in the NYT and MoMA's Price Increase is Horrible on The Awl. On a side note, in honor of the price hikes, Forbes published a nice, short piece on customer segmentation in museums.) The sentiment is, "Museums should be free," or "Museums should always be affordable for all." But perpetual free (or cheap) admission is not intrinsic to the idea of the museum in the United States. Public museums are few and far between here. Our museums are private institutions founded, often, on the collections of private individuals. Some museums choose to express their mission through free admission, and others do not.
Museums' pricing structures aren't a question of universal morality. They're a question of mission. Mission first. In the case of MoMA, organizational priorities include maintaining a peerless collection, producing the impressive, expensive exhibitions, and retaining its position as an international tourist destination. In support of this mission, a $25 admission price makes sense. Besides, the museum isn't asking regulars to pay this price. With a $75 individual membership, if you visit every other month, that's only $12.50 a visit. Accessibility regardless of ability to pay remains a priority, if a secondary one, for MoMA, and this manifests through free Friday nights. Every museum must make pricing decisions that reflect its particular mission.
What about breaking even, you may ask. True, museums talk a lot about rising operational expenses when they raise admission prices. But for the most part, costs aren't just magically increasing on their own. Rather, they're driven by decisions about the mission and future of the institution.
The museums with whom I've spoken haven't shed much light on the types of considerations or calculations that go into setting admission prices. Mostly, they describe a rather intuitive process. The Modern in Fort Worth looked at the admission prices at similar institutions and set its price ($10 general admission) based on these comparisons and a sense of what would allow a certain level of accessibility. The Museum of Fine Arts in Houston wouldn't go any further than to say that they set the admission price ($7 general admission) in 2000 when the museum more than doubled in size and operating costs rose significantly.
Personally, I'm quite invested in keeping admission prices low. It signals openness to the public in a way that nothing else can. However, there's no one right way to price a visit or a membership, because these are mission-driven decisions made in the context of a particular market. MoMA is making a tradeoff between accessibility and collections, exhibitions, and programming. Because of this, MoMA is able to collect, exhibit, and program in a way that few museums can. Other museums make the tradeoff differently. They choose to keep prices low, and they are able to do less. Although I am a staunch supporter of free and inexpensive museum admission, I see MoMA as providing different services than those museums. It's a tradeoff.